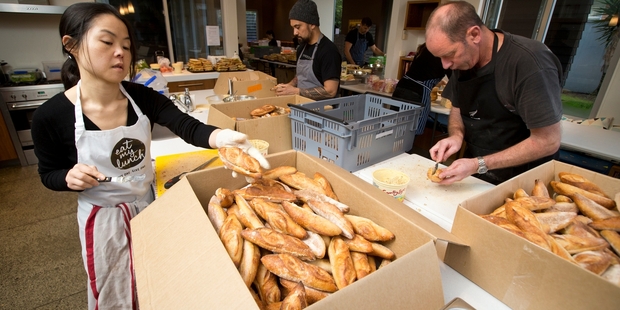 A scheme in Auckland which provides free school lunches to children who would otherwise go hungry is being extended to Hamilton from mid-March, with Melville Primary School the first school to benefit.
Eat My Lunch runs on a buy-one-give-one basis, where participants can order lunch and by doing so ensure another is sent to a child in need.
Co-founder Lisa King began the scheme seven months ago and since thenmore than 100,000 lunches have been given to children in 30 schools.
"In seven months we've gone from nothing to making 2000 lunches per day. At first we thought we would just be making 50 lunches a day so we had no idea how big it was going to get in such a short period of time," she said.
"Every time you buy a lunch we give a lunch to a decile one school child who would otherwise not have lunch."
The operation has recently moved out of King's home into an industrial kitchen, and she said this provided the perfect opportunity to expand.
"Most people who buy the meals are corporate. The meals cost $12 and they include four items. There's normally a turkish pita or a salad, or a wrap with a serving of vegetables, a fruit of a snack like hummus and beetroot dip and a treat."
The recipe changes every day.
"Ninety-five per cent of our customers are working adults who don't have time to go out and get lunch or this is a more convenient healthier option to what is available around their work place."
Lisa said all lunches ordered from Hamilton will go to a Hamilton child and based on population she expected 80 lunches a day coming into the city.
A normal day will begin at 5am, with lunches being ferried down to arrive no later than 12:30.
The children will usually receive a sandwich, some vegetables and a treat.
To order a lunch visit www.eatmylunch.nz.