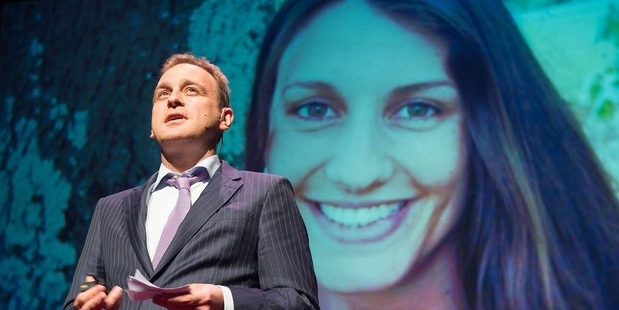 Voluntary euthanasia advocate Matt Vickers, whose wife Lecretia Seales died only hours after the High Court ruled her doctor could not aid her in dying, will appear in Hamilton on March 12 to talk about her case, the ensuing campaign and the progress of a Health Select Committee which has just finished taking submissions on the issue.
"I will talk a bit about the submissions that the committee has received, what I expect the process will be from here, and what the possible outcomes will be which probably won't get back to Government until later this year."
Matt said prior to Lecretia's there was no case law to clarify the legal position.
"Now we have a good understanding of what the laws are and how they would change if they are going to change. Lecretia's case was really important in that respect and kind of a gift to the people of New Zealand because it has given people an insight into what change is required."
The importance of the case did not fall on deaf ears, with Lecretia being named New Zealander of the Year by the New Zealand Herald in 2015.
Before Christmas Matt had been monitoring submissions to the Select Committee closely, and said it was an even 50/50 split for supporting doctor assisted dying and those against.
"I think prior to Christmas there hadn't been a local of activity on my part or the Voluntary Euthanasia Society. I'm hoping that the outcome of the submissions will be more reflective of the polls which tend to show between 60 and 75 per cent report for legalisation."
The figures suggest public interest is high.
"There's probably close to 2000 uploaded so far and they're only up to C - they are doing it alphabetically," Matt said.
From his readings Matt said the main objections came from religious groups and some medical professions.
"Not all doctors are against it. One of the polls I saw put 47 per cent would support assisted dying law changes. Often the medical associations are run by quite conservative executive groups who put out conservative positions and don't consult their members when doing so."
Matt's own submission criticised opponents for providing no alternate solutions to the terminally ill who often suffer immensely for prolonged periods, often citing better palliative and spiritual care as remedies.
"We know from Lecretia's case that palliative care cannot help all suffering - that was agreed by both the Crown and their witnesses and Lecretia's witnesses."
The use of terminal sedation, in which a suffering person is placed under sedation until they die is also not a feasible option, said Matt.
"That can take days, weeks, and if you're young even longer ... we don't know how painful that is, you're essentially starving to death. It's not pleasant, although you're asleep your body is essentially starving."
Matt will also be touching on what other countries such as Canada, who are on the way to legalising assisted dying, are doing.
"The decision was made that this was going to go ahead and hospice carers, palliative care doctors, GPs and medical professionals all came together, dropped their objections and started looking at ways to make it work.
"My suspicion is that if government said this is now legal it would be up to the medical bodies in New Zealand to come up with protocols and practices that ensures the safety of the implementation."
Matt said the Human Rights Commission had made a submission listing protocols that would have to be followed, a surprising move which did not oppose the idea.
Remaining grounded in evidence is key, Matt believes, to successfully legalising euthanasia.
"When you're dealing with something regarding life and death there is a lot of fear and uncertainty about what it all means and how far it will go, but if you look at the very moderate and conservative implementations around the globe those fears are unjustified."
Matt's submission also looks at New Zealand academic Professor Richard Glynn Owens that doctors have ended the lives of some patients without their consent.
"That's a little bit frightening because there's no reporting or monitoring of that. It's happening under the radar. What the study indicated is it was happening at a similar rate to how it was happening in the Netherlands and Belgium before they implemented their laws.
"In those countries since they implemented their laws the rate of which people were having their lives ended by doctors without their consent was reduced and reduced significantly."
Matt's talk will be held at Gallagher Theatre for Performing Arts on March 12 at 2pm.