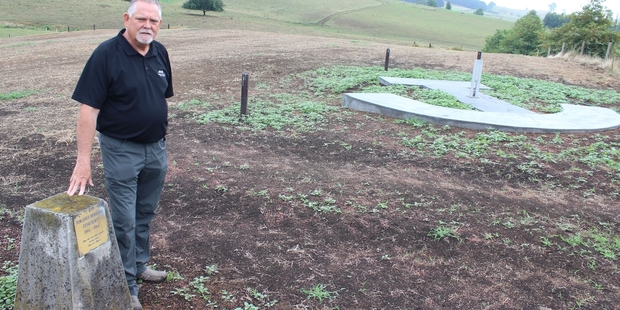 The discovery of an unmarked grave containing up to 500 patients of the Tokanui Psychiatric Hospital has led a Hamilton funeral home manager and genealogist to create a memorial wall engraved with the names of those buried there.
James R. Hill manager Mark Reinsfield said it was a story in the paper which first got the ball rolling on the project.
"We were sitting around the table and talking about it, and the way the story was written it suggested there were lots of RSA veterans in the graveyard. We had put a statue of a soldier in our local cemetery in Hamilton Park [at Newstead] and one of the guys said we should put a statue up [at Tokanuui]."
The idea took hold and Mark researching the topic.
"It turned out there were only about half a dozen war vets in there, so it seemed inappropriate to put a statue up that didn't acknowledge all these other people."
Following a talk with head office, funds were made available to put an 8m wall in place.
The wall is solid granite and will have the names of every person buried on the site engraved on it, with space for a seat and flagpole on an anchor-shaped base of polished concrete.
Mark said ground-penetrating radar had been used to distinguish where in the paddock people are buried, and with the help of genealogist Anna Purgar he has been able to divide the names of those buried between 1914 and 1964 into those buried in the Anglican, Catholic and non-conformists plots.
The names will be recorded on different sections of the wall according to their burial plot, with a separate RSA section for war veterans.
"There will be blank spaces on the wall for names to be added as we find more," Mark said.
According to Anna Purgar there would likely be more names to follow.
She has spent two years researching the names and stories of those buried on the site, comparing information from the hospital with papers past birth, death and marriage notices and the death register from the genealogist society from Te Kuiti written just after the hospital closed.
"It needed to be done, the information was so conflicting so I thought these people in the cemetery deserve better," said Anna.
"It was a matter of trying to bring all three sources together and trying to get the information right."
She has since found five individuals who were not recorded on any death register.
Anna has herself discovered one extended family member in the plot who she had previously been told had been buried in Te Awamutu.
According to Anna some of the most usual people to find themselves in the hospital included women with postnatal depression, foreigners who came to New Zealand to work and had no family, and those with dementia.
The catchment for the hospital had extended to New Plymouth to Gisborne, up to Auckland and across to the Bay of Plenty.
Mark said the first time he walked into the cemetery it felt like "a really sad place".
"There was just something about that bit of dirt was very sad, you just felt heavy."
On the other side of the memorial Mark said there would also be something engraved, which he hoped would add some happiness to the structure.
Although none of the names on the stone are related to Mark, the project is still a personal one.
"When my grandfather returned from the first World War he suffered shell shock and was put into a mental institute. My dad rescued my grandfather but it could have been my grandfather who could have been in Tokanui and died without anyone knowing it."
Despite Mark's grandmother's decision to leave her husband in care, his father and brothers realised in time that he wasn't crazy, simply a sufferer of shell shock.
Mark said in the early days a mentally disabled person could be seen as a shame on a family, and that many disabled children were also sent to the hospital.
"They were generally just forgotten and it's not until now, until two or three generations have passed, that people find out their grandmother or uncle or aunty were out there."
Since the list of names was created the funeral home has been receiving calls from the public to see if a certain name appears on it.
"My guys had the list on their desks so if anyone rang they could say whether a person's name was on the list. Following that people would generally ask when we were doing the unveiling."
The wall has cost $10,000, paid for by James R. Hill. Until now only a corroded old plaque marked the spot.
Following a confusion with local iwi the unveiling will start at 10am tomorrow, and not at 6am as previously planned. The memorial wall can be found on Farm Rd just off Te Mawhai Rd. If you would like to check the list of those buried at the cemetery you can view it at www.findagrave.com.