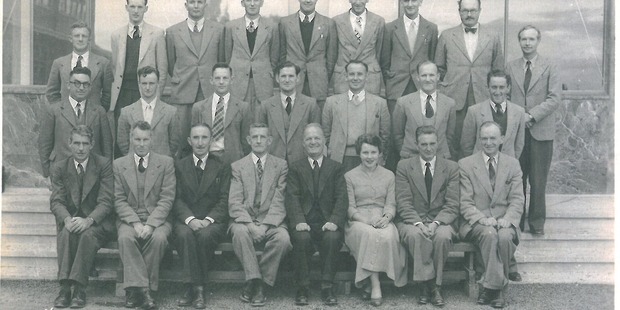 Last year marked 60 years since Hamilton Boys' High School broke away from the girls and moved to a spot on Peachgrove Rd.
Why were the boys moved? Apparently they needed the field space more than the girls. It was "a very sexist" decision in principal Susan Hassall's opinion.
Every 10 years a reunion is held, and every year Ms Hassall is treated to tales from the old boys.
"They come up with stories about how they weren't allowed to talk to the girls [during the co-ed days]. It was very strict, but they found their way around it ... You used to get caned if you were seen on the bridge walking home with a girl so it was very strict."
Ms Hassall has been at the school for 35 years, serving as principal for 16. She has seen the school's roll grow from 700 students to 2250 (with a large waiting list).
"I do love this place - I started here as a first-year teacher," she said.
"It's a lovely place and the boys are very loving and caring. It's just a school you're happy to be in."
It may have been that way for Ms Hassall; it was less so for a previous and less popular principal - Aubrey Baigent.
Ms Hassall recalls the boys paying for a truck-load of soil being dumped on his front lawn. Archivist Kate Holdsworth remembers it slightly different.
"I heard it was a lorry-load of coal and he [Baigent] stood up in assembly and said 'Mrs Baigent and I are very grateful for the coal, which is now in the coal bunker and will keep us going all winter'.
"I think he won them over in the end. I've never met anyone who disliked him. It was a bit of a joke."
In fact, Ms Holdsworth was walking one day and saw ABTO scrawled below a bridge - she found out years later that this stood for the Aubrey Baigent Terrorist Organisation.
When it came to organising the boys were not lacking. Using a cupboard in the arts rooms, Kate recalls old boy Nick Foster, a 1974 leaver, revealing to staff at a reunion a series of tunnels the boys dug which stretched the length of the school.
"There was already some kind of an air vent that ran the length of the old building ... It was a series of boys who did this and by the 70s they were sitting below the headmaster's office listening to the gossip.
"At the reunion he said 'I was in Mr McDonalds class for chemistry' and the teacher looked at him and said he didn't remember him, and he said 'you wouldn't, I was underneath the class'."
Always eager to escape from class, Ms Holdsworth said some of the boys would hide a chair or two in the tunnel after class and then use the lack of seating as an excuse to wander the school the next day.
"At the end of the year a 100 chairs came out of the tunnel - you couldn't move for chairs!" she said.
Unfortunately with earthquake strengthening the tunnels have now been lost to concrete foundations.
But these have not stopped boys finding their way below the floor boards.
The janitor, who still dons hard-hat and goes down from time to time, said you can still find names carved into wood where they would hide away, often to have a smoke.
"They had little clubs under there ... they would go and hide, probably to skip lessons. There are plenty of places in the roofs as well, I bet they got in there too," she said.
One student who sticks out particularly vividly in principal Hassall's mind was Andrew Lumsden, known widely by his comic stage name - Te Radar.
Te Radar himself recalls the quadrangle wars of the mid 80s, when the centre of the school became a battleground for groups highly fluid in their allegiances.
"You had to run this gauntlet through the quadrangle where often there were fiercely-contested games of what I think was supposed to be touch but played on asphalt."
During Lumsden's final years there was a spate of water bombing using brown paper lunch bags.
"They discovered the only people who had their lunch in brown paper bags were hostel boys, so what they instigated was for prefects to sit there in the morning and write the hostel number on the bag. If that bag was found on the ground they got an automatic detention."
Unfortunately for management, Lumsden was one of the prefects trusted with this duty.
"They began to discover the ingenuity of people who can rip the number off the bag and still use the bag to contain water - when you institutionalise people like that and give them a challenge that challenge is generally accepted.
"From that came some wonderful engineers and architects and designers and an origami expert or two."
Lumsden also recalls with fondness the hours some boys spent learning classics during the lunch hour from Ms Hassall's husband when a previous headmaster deemed the subject a waste of time.
"There was almost a revolt because the people taking classics turned out to be the head boy, the deputy head boy, the person who became Dux ... a couple of them threatened to leave the school so they said well if they're so into it they can learn it in their lunch hour. So that's what we did and it was probably one of the best classes we ever had."
Then there was the printing club, where Lumsden and a team of friends would print the occasional newsletter on an ancient press.
"You printed just enough so you could buy fish and chips and Coke, but really it was a building where a bunch of like-minded reprobates got together to hideout during the school hours and weekend.
"It was a bit like Fight Club - you didn't talk about printing club."
Lumsden said if anyone knows where the old press went he would love to know, and hoped pie day was still an institution at the hostel.
"The art of the pie sandwich, which is when you take two pieces of bread and up a pie between them - that was good."
Principal Hassall said nowadays the boys were much better behaved.
"We had a teacher who had a little Fiat Bambina, smaller than a Mini, and she came out of school one day and found it on the roof. The boys had lifted it up," she said.
"I remember at one of my first prizegivings the boys had all these buckets of water above the stage and they tipped them out when the staff were up there - fortunately I wasn't on the stage so I thought it was funny."
Before the days of health and safety there was even a shooting club, which had a range set up facing Marian School.
"They had to disband that because one day a shot went through one of the school windows," Ms Hassall said.
Ms Holdsworth said the bullet narrowly missed a teacher's head, going through the black board.
It has not been all fun and games, however. Having survived three separate fires which gutted the music, part of the maths block and sports pavilion, one lightning strike also nearly cost the lives of four students.
"It was a monstrous lightning strike and some students were sheltering below the largest oak tree in the school. It hit it and they had to do CPR on four or five of them ... The lightning went straight through the tree, split the bark, and went into the boys' feet and right up through their body," Ms Hassall said.
Miraculously none of the boys died.
"A lot of them were in hospital for a very long time. I ran out and the smell was scorched. It was awful. One of the them was a talented tennis player and he never went back, but most made a full recovery.
"The bell had just rung and five minutes later they would have been in class."
The school has also survived through two World Wars, from which 42 boys and staff were lost in the first and 86 boys never returned from the second.
"The war artist of the time, Horace Moore-Jones, he was the arts master here. He was burnt to death in a fire over at the Hamilton Hotel where the statue is. He ran back into the fire to save people twice and was unfortunately burnt alive."
The school has seen a number of sportsmen and All Blacks travel through, including Bert Sandos, who won a gold and silver at the Olympics in rowing.
Last year was also the 50th anniversary of the hostel on the site.
"It was built to house some of the rural boys from around the Waikato. They come from 10 student schools to here." Ms Hassall said.
Some families have seen four generations of one family come through.
Ms Holdsworth there was just something about the school that kept people coming back.
"It's the only uniform you still see being worn by 20-plus year olds, [and people] still sporting their old PE track pants or shorts around town long after they left. There's just something about this place. The Old Boys still meet at Speights in town once a month for Friday drinks."
As well as often appearing in the top three for rugby highschool rankings there is also plenty of academic accolades appearing.
In this year alone one of the students received top in the world in A-Level English.
The school has even seen a visit from the Queen. The school crest contains a lion, which Ms Hassall said represents courage, a star symbolising reaching for excellence, and a sash, which represents a sash on the breast plate of medieval soldiers.
The school motto engraved in latin across the bottom reads Sapiens Fortunam Fingit Sibi, which Ms Hassall said translated as "a wise man carves his own fortune". The Latin is included in a mocking line from a play by Plautus, part of a speech from father to a son. The son has no money and a pregnant partner, and it is long-overdue advice.
"I never tell that story in assembly," said Ms Hassall.
It is the perfect motto for a school which has produced no end of excellent young men, but done so with a bit of humour.