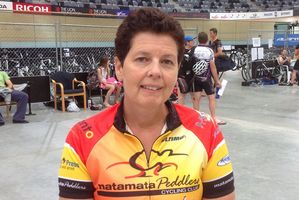 A rare brain condition has prevented a Waikato woman from riding a bike on her own but tomorrow she will attempt her first solo cycling event at the REV Cycle Race in Cambridge.
After being diagnosed with Chiari malformation seven years ago, Diane Johnson thought she would never be able to ride a bike again.
With the support of her husband Ian who has coached her for the past six weeks, she will conquer the 58.9km REV60 course this weekend.
"I never thought I would be able to ride a bike again, let alone complete the REV60," says Diane.
The condition causes her brain to slip out of her skull, crushing the top of her spinal cord. Emergency surgery has helped to prolong her life but it has also left her with some deficits.
"My recovery has been a huge mission," says Diane.
"I've had to learn to walk without being able to feel my feet or left leg, as well as learn how to live with constant pain."
Determined not to let the condition get in the way of Diane's love of cycling, Ian suggested they buy a tandem.
Together they joined the Matamata Peddlers Cycling Club, completed a tour of Australia and have also ridden in the REV Cycle Race twice.
Now Diane is moving on to other new and exciting challenges. She has recently become a fully accredited rider at Avantidrome and has now got her sights set on the REV60.
"Seven weeks ago I decided I was ready for my next challenge and I've been training hard for the last six weeks learning to ride a solo bike on the road," said Diane.
"Changing gear and braking have been a challenge given a lack of feeling in my hands but I've managed to overcome this now. I'm also used to riding with Ian so I've had to learn to climb hills on my own too."
Diane chose the REV as her next challenge because of the support given to all the riders no matter how long it takes them to finish.
"It will be a great sense of achievement when I cross the finish line as I never thought I'd make it to this point."
"When I was first diagnosed with Chiari malformation I thought my life was over, however I now believe it has made me a stronger person. I have done things I would have never done had I not faced such a life-changing challenge."
The REV Cycle Race will be held in Cambridge tomorrow.
Attracting 1200 participants, the REV will see competitors race across Waikato's most challenging cycling terrain. With categories catering for the world's elite to beginners and children, the REV has a race for everyone.