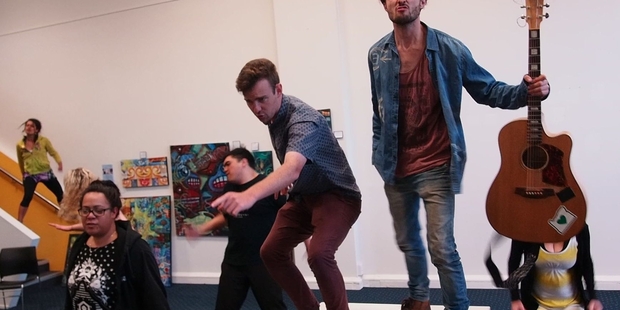 When Henry Ashby decided to put on a production of the musical Rent there was no obstacle too large to stop him.
Whether that was having to start a whole new production company to host it or raising $7000 in a week for the rights to perform it, it was done.
As Henry approached established production companies they were generous with their advice, but there was one over-riding message - if you want to put it on, you're going to have to do it yourself.
So Henry did just that, creating Hatt Production with the help of fellow founder Sam Gordon.
When a chief sponsor pulled out in December the team members found themselves with a week to raise $7000 to pay for the rights to perform the play.
"We told the team we had been working with for a month [that it wasn't going to happen], but everyone was so passionate we put our heads together and thankfully in a week we raised the money."
With sponsorship from Little George, the team held an auction to which the cast brought all sorts of prizes, including a guided tour of Hamilton Zoo and specialist interior design advice from Henry's mother.
With the rights purchased, the crew have had to scrape together another $2500 for props and costumes.
Henry is producing and directing the show, while co-founder Sam Gordon fills the role of vocal director.
"It was a bit of a pipe team but we pulled it together with an amazing team," Henry said. "I've loved this show for a number of years.
"It really affects people's lives if the messages come across properly."
Rent is about a group of young artists struggling to survive and create a life in New York City's East Village at a time when Aids was a constant threat hanging over society.
"The show I'm trying to put on is one which achieves heightened awareness for Aids.
"It's not like it was in the 90s but it's still a real problem," Henry said.
"It sounds very morbid but it's about love and hope and living day by day."
The play will run from February 19-26 at the Meteor theatre from 8-10pm every night.
Tickets can be purchased from iticket.co.nz