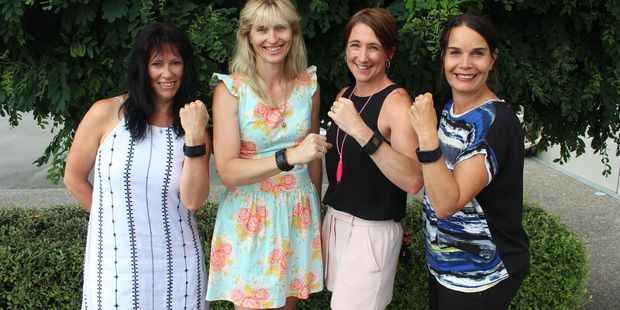 Four brave Hamilton women with minimal trekking experience have taken the bull by the horns and, armed with Fitbits and a can-do attitude, are taking on the Oxfam 100km Whakatane Trailwalker.
The walking group, named the Mad Mooloos, met for the first time last August, when Anne-Marie Case-Miller brought three friends together to pitch the idea of doing the Trailwalker.
The friends - Toni Hamlin, Jen Campbell and Verity Holmes - didn't need much persuading.
"I have done a bit of walking, a lot of leisurely strolls that might end at a winery," Anne-Marie joked.
But despite the levity the team are taking training seriously.
"We've been upping the ante for trail walks - distance and time, so we do our own thing during the week and we try and get together in the weekend to do a longer one."
The Hakarimata Ranges have become a familiar sight for the ladies.
Learning as they go, a recent trip drove home the importance of anti-histamines when Anne-Marie and Toni both received wasp stings and discovered Toni was mildly allergic.
"We had been thinking about bandages and basic stuff, but that wouldn't have helped with the reaction," Anne-Marie said.
Verity is the most experienced tramper, and while all of the women are active and fit none have tried anything close to a 100km walk spread over two days with little or no sleep. The team is aiming for 32 hours to complete the race.
Consistent 4am starts have seen each team member clocking up 100km walking each week and a planned weekend trip to Mangakino will see the group doing two 40km trailwalks in two days.
There are injuries to contend with also, with Jen suffering a fractured foot and Toni undergoing a serious knee operation in September.
It has been a logistical exercise with all four women having to balance family and work, which means the husbands have quickly been roped in as the support crew.
As well as collecting online the group is also hosting a fundraiser movie night at Hoyts Theatre on February 18 at 6:30pm where they will be screening new-release How to be Single.
"We hope to raise $2000 from that, which is our target, so anything more than that will be a bonus," said Anne-Marie.
"Every dollar is another reason to keep going."
Money raised will go towards poverty in the South Pacific region to encourage organic farming in places such as Samoa and Papua New Guinea.
If you would like to contribute to the Mad Mooloos effort visit www.oxfamtrailwalker.org.nz/otw16/teams/mad-mooloos