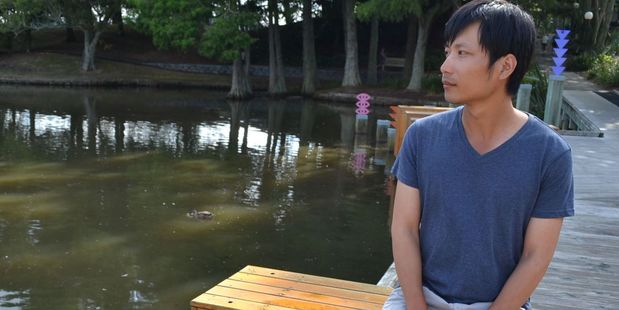 Michael Li came out to New Zealand because he had been told it was paradise, but within 10 days of arriving a man who offered to drive him to the airport tricked him into getting out of the car and drove away with almost everything he owned.
That was on Christmas Day. Now, more than a month later Michael is still living on the charity of a family he met in Hamilton, has seen nothing from Police and cannot find work without a passport.
"I am just stuck here," he said.
A Givealittle page has raised $700, and while Michael said he was deeply thankful to everyone who has contributed and especially thankful to the family in Hamilton who took him in, it simply is not enough to continue his travels.
"In my heart I don't want to stop my journey, but without money I just can't."
Without money Michael said he will have to fly back to China, cutting his planned one-year trip painfully short.
"If I stay here just for living, I think that's not the purpose why I came out," he said.
When his possessions were stolen Michael had been planning to fly to Wellington and take a ferry to the South Island for a job picking cherries. Then he found the next bus would not arrive in time so decided to hitchhike and a man offered to drop him off for $10.
Michael describes the car as an older model four-door saloon car in a reddish-brown. The driver said he was a builder.
Michael described the man as about 175cm tall with a long face and brown hair and beard. He pulled into the petrol station and asked Michael to pay. He even got out of the car and pretended to use the pump handle.
"I was in the car and he said to me you can pay for the petrol. I took out $10 and tried to hand it to him but he didn't take it. He just told me to pay in the shop.
"I went into the shop with my phone and my wallet. I told the staff I was going to pay for the petrol. I handed them the $10 and pointed outside to say which car it was going into."
Michael could not believe his eyes as the man started his engine.
"I ran out but it was already to late. I was shocked but I realised what was going on. It made me very angry because I saw him wave, but I couldn't do anything."
The man was gone in seconds. The Police took a lot longer.
"I should have run after to see his plate number, but I just rang the Police. I thought the Police would chase the car or something like that."
When Michael rang 111 they told him they would send someone to the petrol station. It took a call from Michael, the shop owner and a couple who found him distraught before Police arrived, three hours after the robbery.
"The police officer on the phone said it's Christmas Day and no policeman would come there. They finally came around 7pm and it was only because of a Kiwi couple. The lady called the policeman and told them 'you have to send someone here, this young man just lost everything. He has no place to go'."
He said while the theft was upsetting, the attitude and the speed of the investigation had destroyed his confidence in New Zealand.
"One thing that confused me - when Police asked me the number plate of the car I knew there was CCTV in the petrol station ... The staff told me it was not clear enough to see the number of the car. Why would they put CCTV there if they couldn't see the number?"
Almost a month later on January 24 Michael received a text from the officer conducting the investigation.
"After one month they are still waiting for the video and the Police still haven't gone in there to get it."
When Hamilton News contacted Police for a response Sergeant Grant Harris in charge of the case, said he had spoken with the victim on Wednesday and advised that the CCTV footage had not yet been provided.
"Police hope to obtain this footage soon in order to ascertain whether there are any lines of investigation available as a result," Mr Harris said.
"Police would encourage the public to consider the safety of their belongings when leaving them in the possession of strangers."
There was no response to why Police had not acted before now to obtain the footage or why they took so long to attend the scene after the theft. The Chinese embassy advised Michael to wait to see if his luggage was dumped and his passport found.
It took Michael six months to save for the trip.
An aspiring photographer, he spent $1000 on a camera before setting off. The camera was in the car when it drove away, along with $500 in cash.
"Before this thing happened I really hoped I could be a photographer or in the field. I just want to photograph everything."
If you would like to contribute to Michael's journey visit www.givealittle.co.nz/cause/helpmichael.
If you have any work Michael is eager to earn money and can be contacted at lyonan@163.com.