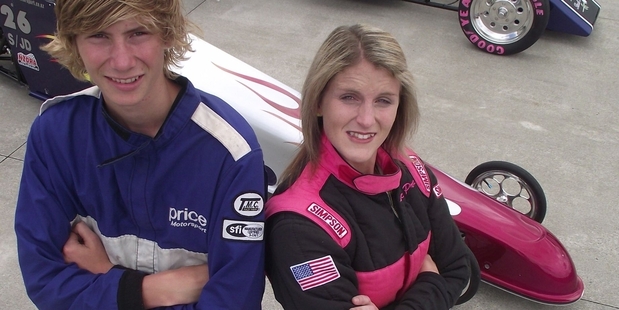 Stacey Price and Corey Buxton are among the young faces in drag racing who plan to show what they do at next month's first Frankton Thunder automotive festival.
Stacey, 24, works with dad and veteran drag racer Greg Price in Home Plus, the family business in Frankton.
Greg has two daughters, and while both made a start in drag racing, it was Stacey who took the bull by the horns and became fully involved in the sport at the age of eight in junior dragsters.
These miniature 'rails' provide a training ground for future drivers and can be powered by Briggs and Stratton motor mower or motorcycle engines and cover their one-eighth-mile (0.201km) tracks in 17 seconds.
Stacey raced for two years in juniors before moving to crew for her dad's cars.
These days Stacey drives an methanol-injected 355 cubic inch (5.8ltr) Chev-powered 'Altered' borrowed from former Taupo racer Andy Chapman. The car's pedigree can be traced back to the early 90s and it holds the A-Modified record at 8.516 seconds and 154.48mph (247.7km/h) on the quarter-mile (0.402km) track.
"I decided I wanted to get into it. I wanted to drive myself," said Stacey. "I really like the way the short wheel-base cars (altereds) look and jump around in burnouts.
"We borrowed it on a 'you break it, you fix it' basis. The car is in better order now than it has ever been."
Stacey competed in half the 2013-14 season. In her first full season, 2014-15, she raced in four out of five dates in the NZDRA (New Zealand Drag Racing Association) series which allowed Altereds.
This season she began at Masterton in early December and qualified well before the meet was rained out. At Taupo in late December Stacey set a personal best ET (elimination time) of 8.626 seconds at 153.69 mph (247.34km/h). The next meet at Masterton in January was again frustrated by the gods of water, but she is looking forward to competition in March in the national championships to be held in Taupo.
Although there are good numbers of female drivers in junior drags, not so many move on to the more serious competition and Upper Hutt's Pauline Lane is her only female competition in Altereds.
Stacey isn't just a driver, having crewed in her father's team, she is also handy with a spanner - skills that came in useful when her car dropped a valve during one meet.
Young Corey Buxton, 16, is a Cambridge High School Year 12 student who started in junior drags in 2012. There are no records kept in junior drags, Greg explained, as it was felt it would make the youngsters too competitive - however, there is still plenty of rivalry.
His machine is powered by Honda RS 250 motorcycle engine with a six-speed air-shifted gearbox which will get 7.9 seconds on the one-eighth-mile course. Both Stacey and Corey are billed to provide demonstrations at Frankton Thunder, between midday and 3pm both Saturday, March 5 and Sunday, March 6.
Greg Price has been in the hot-rodding and drag-racing scene for 35 years, beginning back in the early 80s with a '23 Bucket which could cut 10.2 on the quarter.
He is currently building a new blown and injected 521 cubic inch (8.5ltr) 'Brad Anderson'-powered Funny Car from the ground up. This 5-second car is expected to make more than 3000hp and be ready to run for the 2016-17 season.