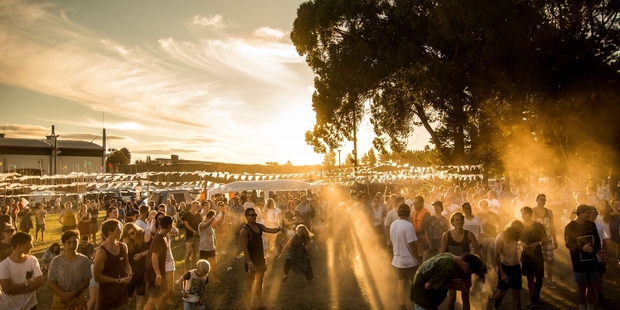 Mystery Creek got its second hit of a full-flavoured Festival One last weekend, with thousands gathering to camp out and experience music from New Zealand and international Christian artists.
Festival organisers reported numbers were up on the inaugural event last year and that the emphasis was on more than just great music.
"We wanted to create a fun space, for hanging with your mates and enjoying the sun and good times," said crew member Katie Ward. This was evident in the detailed set-up with banners, flags, and fairy lights festooning every corner, personal touches including a wall of over one hundred colourful hand-knitted plant holders, photo booths set-up to capture (and of course Instagram) moments with friends, plus a giant games area equipped with straplines, human foosball, life-size Connect Four and other activities free to play.
The festival village featured a barber shop, authentic western facade 'General Store' and a number of eateries, all kept busy with queues of hungry punters.
Kiwi artists such as soulful folk artist Strahan enjoyed the chance to play to a home crowd after a busy year of touring overseas.
"You can't beat New Zealand, but I did have a fantastic time in the States too - they're an enthusiastic bunch!"
Strahan's recent successful Kickstarter campaign funded production of his second full-length album, a route for artists that he says is "very much the done thing" at present.
Auckland band [shift] brought fresh sounds to the festival stages this year, with the addition of new band members seeing their style morph from classic rock to "grooves and moves" as frontman Sam Burrows described it.
"We've been in a sound discovery phase over the past year and it's exciting to be trying out new sets on this crowd over the weekend."
Although the general crowd demographic was teens and 20-30s, the event catered for all ages with workshops, speakers, a lively children's program and 'Love Bomb' project which saw Festival One goers roaming Hamilton on Saturday performing random acts of kindness and distributing gifts to strangers, local hospitals, and civil servants including police officers, firemen, and bus drivers.