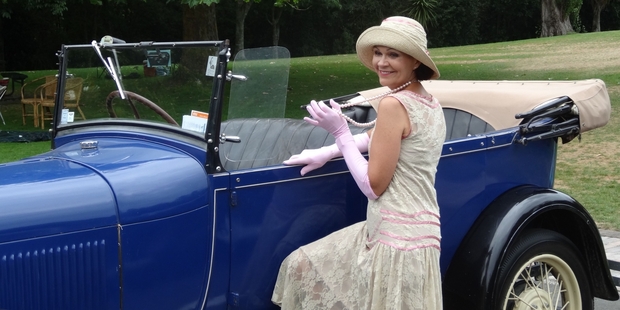 Following the success of last year, the Mansfield Garden Party will return to the Hamilton Gardens this Sunday and with period dress up, a vintage car show and performances from the River City Stompers and Cervetto Trio an event not to missed.
Friends of the Hamilton Gardens event organiser Amanda Graham said the public should throw on a boater or long beads, pack a picnic and enjoy a free day at the Hamilton Gardens.
"The background of the event is, we wanted to engage the community with the Catherine Mansfield Garden currently under construction.
"There will be a bucket going round for gold coin donations for the project."
The 1920s Great Gatsby theme came from the Catherine Mansfield's fiction short story The Garden Party which was set in 1922 - the same year as F. Scott Fitzgerald's classic, The Great Gatsby.
"The Garden Party was first published in the Westminster Gazette on February 4, 1922 - our event is on the seventh so the dates all tie in," Amanda said.
Wai-kat-swing , a local swing dancing club will also be perform ing, with Charleston dance lessons also on offer.
"We have got live entertainment with the Drinking and Dancing Band who specialise in music of the 1920s era."
Amanda said dressing to theme was not required, but there would be prizes for the best dressed girl and boy, family group, and Catherine Mansfield lookalike.
A Catherine Mansfield salon complete with books and readings from her short stories and food will also be set up.
For those willing to pay a little extra there is the option of attending talks on the food, fashion, flowers and literature of the era.
"You can buy the tickets from Glory Days Magazine online and they're $35 each. That includes talks, a goodie bag and a morning tea."
All profits from the day go towards the Mansfield Garden development.
The event will run from 10.30am-5pm in the Rogers Rose Garden.