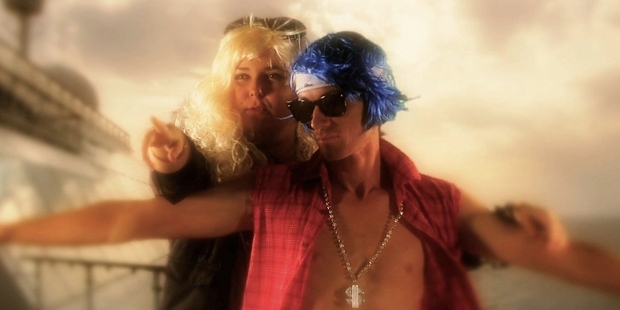 Audiences of the Hamilton Fringe festival will be allowed a first glimpse and chance to offer feedback on a new web series from two Wintec grads which aims to make comedy from artistic cliches.
Artforme, which co-creator Jono Marshall said was a purposefully pretentious choice of title, will follow five artist characters inspired by personalities he and fellow creator Katie Howchen met during their university years.
"We want the characters to be really relatable so people can say 'I know that person'," Jono said.
These include Carol, a middle-aged eccentric who quits her job to become a dog photographer and Olivia, who works in an art gallery and often finds herself in surreal and awkward situations.
"One of these situations is she's coming to work and there's an art showing, and she puts her bag down and a woman thinks it's an art installation and tries to buy it. She's one of those people who tries to avoid confrontation so she just kind of goes along with it."
One of the characters Katie most enjoyed writing was a professor with a fascination with the human body which manifests itself in a desire to take off clothes - although Katie admits casting was a little tricky.
"It's not a sexual thing. He's just into the human body as art. He finds any excuse to take his clothes off in any situation."
The show will also include a duo named Terry and LouLou, two high-fashion designers being filmed for a documentary.
"It kind of shows them to be very professional and good at their jobs, and then we see another scene when they are the opposite in real life. It's playing on that whole vogue, September-issue type thing."
The pair have moved away from the status quo of most sitcoms and chosen to cast a predominantly female cast.
"We find female characters easier to write for some reason," Jono said.
Katie and Jono will also join the cast as two delusional rappers, Jizzy-Jay and Kitty Ooch, who are convinced they will be the next big thing.
Jono said the writing had been influenced by films such as Capital Culture, a New Zealand web series set in Wellington.
Filming will begin in two weeks.
"What we're doing at the moment is workshopping with a number of actors.
"We are going to do a show for the Fringe Festival and that's going to be an audience test to see how the scenes are playing."
The show will consist of several skits projected onto a screen followed by a live show.
The pair received funding from Creative New Zealand and have also been working with Creative Waikato and Wintec for the production.
"We've had a lot of positive involvement from the community so far," Jono said.
Each episode will run for about seven minutes and Jono said the reason production was taking so long was to ensure writing and filming were done right.
The project is expected to be completed and hosted on YouTube by October.
The live event will be held at the Clarence Street Theatre on March 9 and 10.