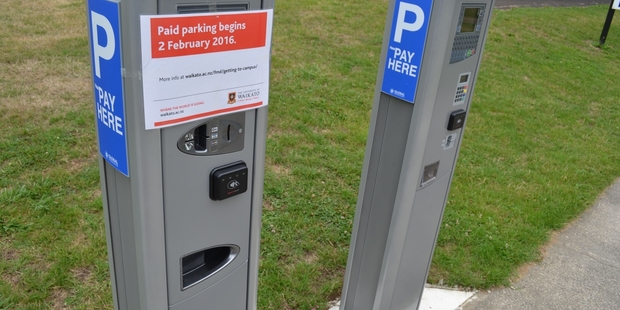 Waikato University students and staff alike will return in mid-February to find every one of the University's 3000 carparks have become paid parks.
Head of facilities management John Cameron said the new fees were designed to help cover the cots of supplying parking to help manage demand, and to encourage staff and students to consider more sustainable ways of getting to campus.
The fees will be introduced on February 2 and will be charged to students at a base rate of $2 per day or at a concession rate of $6 per week or $60 for a semester.
Halls of Residence students will also have the option of buying a year pass for $120 to park in the Halls carpark.
Waikato University student union president Indula Jayasundara said he had heard complaints from students, but the majority of these were about the quality of the parking and the clarity of the lines rather than the introduction of payment.
"The students are aware that payment is going to be implemented this year, so they are being very cautious making sure the parks are maintained because they're paying money and they expect the parks to be up to a certain standard."
Mr Jayasundara said the case the University brought forward for sustainability led to an understanding that other methods of transport would be provided.
"I think providing more bus routes, providing Busit card subsidies and making sure they have student concessions will really work ...
"I think all of them in combination, if they have them on campus this year or even next year after talking to bus service providers, that should be a good trade off.
"It would be a money grab if they didn't live up to what they said, which is providing students with alternative transportation options and making sure they get value for their money."
Mr Jayasundara said $2 may seem insignificant, but for students every dollar counted.
Staff will also have the option of buying a reserved space for $750 or a $300 'licence to hunt' permit which gives them access to staff parking areas.
Mr Cameron said the fees had been set at a level that would generate revenue sufficient to cover the cost of providing parking.
"Supplying parking costs the University approximately $589,000 a year for land lease, maintenance and depreciation. In the first couple of years revenue will cover annual operating costs and the set-up costs of the payment and monitoring systems. Thereafter, the University hopes to use revenue to improve parking facilities and encourage further use of alternative forms of transport," he said.
The decision to introduce paid parking came from the new vice chancellor professor Neil Quigley, but the Mr Cameron said it had been considered annually since 1994.
"The financial cost of providing parking at the Hamilton campus has risen substantially in recent years. At peak period our current car parks are full, meaning that with no change in policy we face an immediate challenge in providing additional car parking in the near future."
He said this might mean the environmental cost of paving over lawns and garden, or the financial cost of constructing a new parking building.
Prior to this only 24 short-term parks had required payment.
Students will pay for parking at kiosks which require the user to input their number plate which is then recorded in a database and a separate vehicle with plate recognition software will patrol the carparks, checking plates against those registered.
"As is the case now, any vehicles found in breach of the parking rules will be clamped," Mr Cameron said.
Mr Cameron said student reaction had been mixed, with some appreciating the fact it will force those living close to campus to walk, freeing up spaces for those who do not have that option.