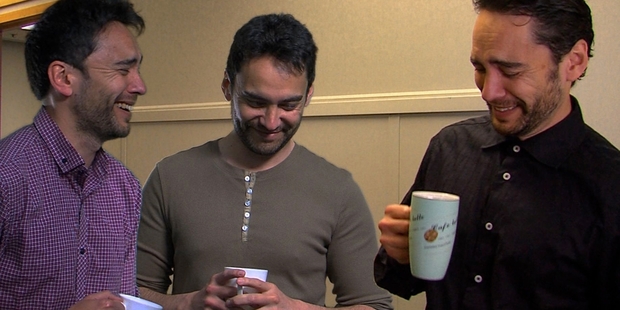 Hamilton band DateMonthYear has released three new music videos, and fans may notice they are all completely different.
Which is to be expected when you give three local filmmakers complete artistic freedom.
Founder Trevor Faville took a leap of faith by allowing three independent filmmakers free rein to pick any song from the band's four albums, and then without input or oversight, to interpret the music and create their own video.
Trevor said although this was break from his usual practice, it was actually a relief to leave the filming in other peoples' hands.
"When you run things you want to control all the time, but in this case it was great to just let go and see what people do. I loved the result. It's not what I expected but that's the best thing about it," Trevor said.
"We're all about artistic freedom and artistic expression and not being told what to do."
Filmmaker Elysia Koretz chose the song River, which was originally written for a musical.
"It was meant to invoke a river, but she approached it entirely differently with this guy doing creepy stuff for a person behind the door. It's kind of dark."
Fellow filmmaker Matthew Mason chose Ghost.
"What he did was he jumped on one line in the chorus - 'they say you are the only one' - and basically did that as his concept. There's one guy in the video and he constantly meets himself going to work, and when he goes to work he's his own boss. "
The third filmmaker, Kathleen Christian, who works at Melville High School as a media studies teacher, chose the song Haunter.
"It's a really freaky song with a long intro featuring an EVP (electronic voice phenomenon) - a recorded ghost voice we found on the internet. It's got a horror movie kind of feel and she did a whole lot of images to go with it. "
As well as play the drums, Trevor also manages and writes for the band. He is also a member of the Tron Music Trust.
"We've always insisted on being independent and doing things our own way," he said.