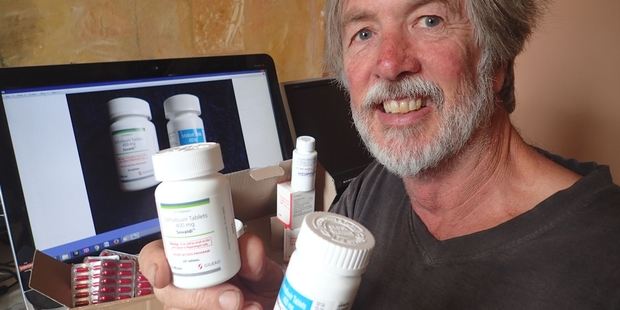 After being infected with hepatitis C from a blood transfusion it took a Cambridge woman 28 years to receive her diagnosis, and then it was only her own investigations which led her to a Dallas Buyers Club-style organisation in Tasmania that meant she could afford the medication to treat her illness.
Now 'Julie', who asked to speak under a pseudonym, wants to spread the word about buyers' clubs and educate others about their rights to an ex gratia payment from the Government for infections from blood products prior to screening.
Julie said she became infected following a caesarean section which left her requiring a blood transfusion in the 1980s.
When the stories began to emerge of Aids and hepatitis infections from untreated blood a few years later she went in for a test but was only screened for hepatitis B.
"As the years went on and my sister died of hepatitis C-related problems I went back in and I said 'you did test me for C?' and they said no."
Julie was subsequently tested in early 2015 and discovered she did in fact have the disease.
She had begun to feel symptoms before the diagnosis but put it down to growing older.
"I had started to notice things like brain fog and I walked down the street one day from work and it was like my body just stopped, I had to drag myself."
She said when she received the diagnosis no one told her she might be eligible for any financial assistance.
"I had to ask about it. It was only because I had overheard one sentence from someone I worked with. You try and Google that assistance and you'll come up with nothing.
"I think everybody who got it through transfusions and can be bothered to go through the process should apply."
Now Julie is determined to educate others of risk factors, which include intravenous drug users, those receiving body piercings or tattoos from unsterile equipment and blood transfusion recipients before 1992.
Symptoms include tiredness, joint pain, nausea, loss of appetite and abdomen pain and leads to inflammation of the liver which often develops into chronic liver disease.
A Ministry of Health spokesperson said in most instances individuals would be directed to ACC by their health professional and updated information on the offer would be published on the Ministry website.
"Within ACC the case would be assessed and if eligible for compensation the individual would be informed and their request subsequently considered by the Ministry of Health."
They said that since 2006, compensation had been offered to individuals who were affected by hepatitis C by blood or blood products where the blood was collected prior to July 1992 and individuals met a number of other criteria.
"Most cases of compensation have now been agreed and settled. There are still occasional cases," they said.
Those eligible for the payment can receive up to $70,000, but Julie said while that may seem like a lot it only covers a little over half the cost of the new generation medications in New Zealand.
The most effective drug, Harvoni, is available in New Zealand but costs $1200 per day, adding up to a hefty bill over $100,000 for the 12-week course Julie required.
Courses of Harvoni can be between eight and 24 weeks depending on genotype of infection and any liver cirrhosis and whether you have been treated previously with the older interferon drugs.
Julie refused the standard interferon-based medication that is currently funded through the health system because of the long treatment periods, serious side effects and poor success rates.
Harvoni has far fewer side effects and is between 94-100 per cent effective.
Julie was able to source her full treatment of Harvoni for $2400 through the Fix Hep C Buyers Club, and with the help of Australian doctor John Freeman had the whole course delivered to her door.
"Most people can drum up that much money," Julie said.
"It's been a long process and there have been ups and downs, and it is quite a lonely journey as there is still a stigma attached to the virus and very little knowledge within the wider community."
Only last week Julie finally heard from an ACC representative who said there were additional options for people who had contracted the virus by blood transfusion or infected blood products.
"I said 'you've known about this since the beginning of last year and no one has contacted me to tell me you can do this for me'."
When she stumbled across the Australian blogger-turned-buyers' club organiser Greg Jefferys in November, Julie said she was not sure what to make of it.
Greg initially tried to source the drug from India and Nepal, but issues with delivery eventually led him to pass Julie on to Tasmanian doctor James Freeman.
She was given an online appointment and found herself waiting in a virtual chat room.
Julie admits there were moments when she thought it must be a scam.
"They gave me a time I thought it must be Australian time and I went in and nothing happened. I was really confused, and then I got call from this guy called Rusty Dickey saying we're concerned you missed your appointment."
"I thought 'hello, this is a scam'."
But it wasn't, and once she had provided Dr Freeman with her medical records and a prescription from her doctor it was a simple case for a chemist to send the medication to her letterbox.
Julie finally received the parcel in mid-December and having been on the drug for six weeks said she already feels the benefits.
"There's a bit of spring in the step again. There are minimal side effects for me apart from some dizziness but the drug seems to affect everyone differently. No one in the initial trials had symptoms bad enough to stop taking the drug," she said.
The drug patent is owned by pharmaceutical giant Gilead Medicines.
"They're the ones everybody's annoyed at because they're the ones keeping the price out of reach for most people," Julie said.
"I didn't want to be out there on TV or anything. I just want the public to be aware that that's what's happening here. It's the same with other drugs too - we're just being held to ransom."
Greg said he and Dr Freeman had been instrumental in seeing the price in Australia drop by flooding the marked with cheaper generic versions, and urged New Zealanders to do the same.
"We were providing about 300 treatments a week. In 12-18 months there wasn't going to be anyone with hep C banging at the door looking for medicine. Gilead saw if it didn't drop its price the Australian market would be lost to it.
"It's obscene greed resulting in the death and misery of literally millions of people ... It's [Harvoni] a magic bullet and if they had been more reasonable with the prices they would be getting a Nobel Prize for it."
He said the Indian companies are able to make a generic drug because their government deemed Harvoni too similar to other anti-virals to be patented.
He described the standard interferon-based treatments as "from the dark ages".
"I hear so many nightmare stories. I can't believe any doctor would prescribe this stuff when a much more effective and safer drug is readily available."
The Buyers' Club began with an online blog following Greg as he became one of the first Australians to travel to India for hep C medication.
The requests for help snowballed to the point where he gave up a PhD to run the Club as a full-time occupation.
Julie said she had not shared her troubles with many people, but those she had had been amazing.
"I do feel a bit empowered because I have managed to get the medication necessary to hopefully cure this disease despite the hurdles and misconceptions.
"It's only just now that more information and awareness it's starting to surface. I had to do all that research stuff myself.
"I just knew I wanted the virus gone as it is eventually a death sentence," she said.
About 60,000 New Zealanders have hepatitis C and the numbers are growing as people learn more and get tested.
Having received the government ex gratia payment settlement Julie was able to pay for her medication, clear some debts and buy a new headstone for her sister who died a decade ago from the same disease.
"The wooden cross we had placed on her grave was broken last year and I made a promise to her that if I received the government package I would replace it with a nice headstone. It seemed fitting," she said.