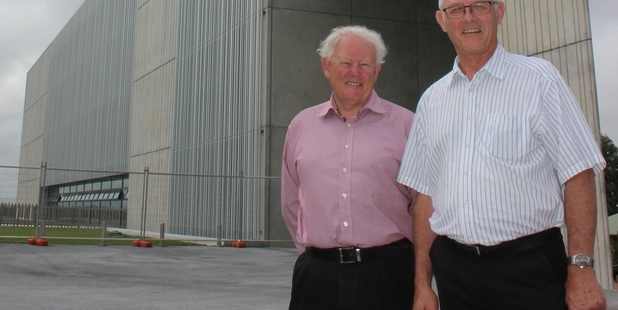 New and returning law and management students at the University of Waikato will arrive to a new, state-of-the-art facility in February.
The new complex, which comprises a tower devoted to office space for staff and post-grads, lawn, two lecture theatres and four computer labs, cost roughly $30 million and replaces four other buildings, some of which had been in operation for 50 years.
The building sits on the site of two previous carparks where work first began in April 2014.
Facilities management director John Cameron said the concrete and glass construction would not be to everyone's liking, but it had been designed by Opus Architecture with future-proofing in mind.
Everything from the retractable walls, magnetically triggered fire doors and focus on natural light has been tailored towards a changing education space.
Mr Cameron said since student fees were introduced there were increased expectations on facilities, and these were coming through in the building design, with more centralised services and tailored solutions.
He said the buildings position at Gate 7 on Hillcrest Road will mark the new entrance to the University, and will eventually be adorned with the school's logo.
"It really says you've arrived somewhere," he said.
Project director Tony Dicks said law students had been at a bit of a disadvantage since their creation, with central government pulling the pin on funding and leaving the university to fund the bill for its setup.
"We had never been in the financial position to offer anything better."
Mr Dicks said the design was ecologically sound, with the narrowness of the tower reducing demand for ventilation, ample natural light and the concrete acting as a heat sink, keeping it cool in summer and warm in winter.
The computer labs, which are positioned below the main lawn area, will also receive ample insulation from above.
"This is truly a green roof," Mr Dicks said.
The main student area is now complete, "minus a few artworks" and Mr Cameron said he hoped staff would be able to start moving into the tower at the start of term.
The new building also contains a moot court, and law students will not be wanting for realism, with the benches, seating and even defender's box having been recycled from the Manukau District Court.
Mr Dicks said it was a stroke of luck that Opus were commissioned to revamp the Manukau courtrooms, and were able to save over $50,000 by refurbishing their equipment.
The set-up even comes with a judge's cloakroom and audio visual system.
"It's an important part of their education because it's an intimidating environment to enter," Mr Cameron said.
A main stairway will also be decked out to tell the 50-year history of the University, with a time capsule secured at its base.