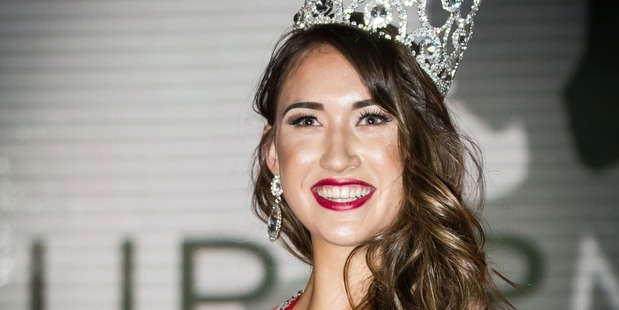 Hamilton teenager Allaynah Hill took out the top prize at the Supermodel New Zealand competition last weekend, winning herself guaranteed entry to the Worlds in India in March.
Allaynah was the second youngest contender at just 15 years old, and with only two years' experience in the pageant world the young woman is going from strength to strength.
The victory comes after several weeks of boot camp where she and the other competitors trained for six hours a day in six inch high heels, practicing catwalks and choreography for the show.
Allaynah's mother Megan Hay said the girls bonded during this time, brought together by the intensive training.
"When you're with someone for that length of time, working together in your high heels you become friends," she said.
Allaynah, a Year 11 student, said although the preparation was nerve racking at first, it was more fun than anything else.
"We had to learn an opening number in high heeled shoes and for some of the girls this was their first one, so that was quite different for them to learn. Our feet were quite sore at the end of the day."
"No one was fake, everyone was friendly. I think we were all supportive of each other. It's not really that catty atmosphere at all."
The friendly atmosphere saved another competitor's night when, finding her own cocktail dress wasn't right, sent out a plea to the other contestants which was answered by Allaynah, who had a spare.
"She wore that on the night."
Walking in heels is not the only new skill Allaynah has learnt; having never worn makeup before competing she is now called upon by friends on a regular basis to do theirs.
Saturday's event included a streetwear, resort wear, cocktail dress, evening gown and swimwear section, which Allaynah won, with the choice of outfit falling to Allaynah herself.
"You definitely have to prepare yourself mentally and physically to get yourself ready for these things. Yes it's a big step out there for teenage girls, especially at my age, but I just do it for fun and confidence."
She said dieting should not be a part of these shows, and for her healthy food and exercise was something she did anyway.
"Anyone could do it as long as they have self-belief ... I have got my confidence from this."
Shock was all Allaynah felt when she heard her name read out.
"Then I was just buzzing, I'm still buzzing now," she said.
The main prize, other than the huge tiara, was automatic entry to the World Supermodel Competition in India in which 40 countries have been confirmed to be competing.
"It's really exciting to represent New Zealand in something as big as this," Allaynah said.
"I don't necessarily need to get a title or a prize. It's cool that I just get to experience it all."
Allaynah's first competition was in May 2014 when, with no previous experience she won Miss Teen Hamilton. This allowed her to progress to the national competition in Auckland.
"I had never really done anything like pageants or modelling or anything like that before this happened, so it's all been a bit 'woah'!"
She won the title of Miss Teen Earth in July, which allowed her to travel to represent New Zealand in Panama, at which she won the title for Miss Natural Beauty.
When she went to Panama she led a delegation to the Mayor of Panama from Hamilton Mayor Julie Hardaker.
"Panama was at first very nerve racking, particularly because I didn't know the language very well, so I had to learn really fast on the plane ride getting my Google Translate out," Allaynah said.
She had to appear on radio and TV, straining to recognise when she was being called forward to be interviewed.
She described the experience as a rollercoaster, with 5am wake up times and days which could run until midnight.
"Then you have to practice your walk for the next day so you don't get to sleep until about two. There's a lot of work behind the scenes. It's an adrenalin kind of thing."
She will need all of her stamina for India, which runs for 10 days with a showcase on the final night.