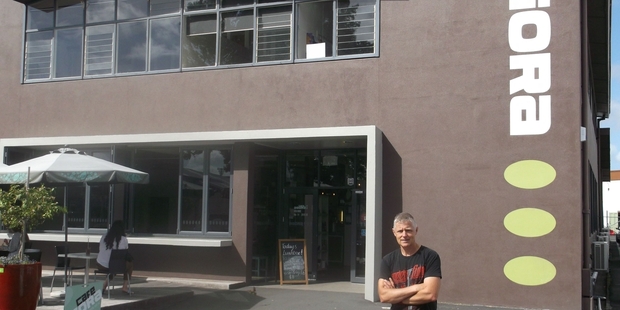 Agora is a cafe in the heart of Frankton that is owned and operated by Agora Community Trust.
Established in 2008 by the City Bible Church, Agora provides an opportunity to extend compassion to people in need. Agora, which is Greek for marketplace, is a gathering place for people from all walks of life, and any denomination and is a neutral space that church and community can use.
While the City Bible Church also meets here, the place itself is not a church; it is simply the meeting point. Campbell Forlong, director of the Agora Community Trust and a senior pastor at City Bible Church, says this takes away the idea that the building is sacred.
"It is more like a home."
At the time of purchase in 2005, the property on Kent Street was being used as one of the electoral offices for the national election.
City Bible Church had to gut the building completely to put in a cafe, events venue, youth hub, administration centre and a kids' room. Agora itself is a neutral space that the church and community can use.
The profits from Cafe Agora are used for local charitable causes. Each month, Agora has a 'charity of the month' where 50c from every hot beverage sold is given to a specific charity.
Over the past six years more than $70,000 has been given back to community. Some of the charities that have benefited recently include Red Cross, True Colours and Arts for Health.
Each November, Agora calls for charities to apply to be charity of the month. December is usually kept open for special causes that come up. In the past month Agora helped fund school uniforms for new refugee arrivals through the Red Cross in Hamilton.
Agora hosts a free English language class for the migrant community on Wednesday nights.
A regular charitable event they hold is 'Agora goes live'. Debbie Shepherd, a Kiwi gospel singer-songwriter, facilitates the event. Local artists play for free and a $5 door charge raises profits that are given to charity. The Caf stays open those nights for dinner. The event gives seasoned local artists as well as new artists an opportunity to perform.
Each month Agora also exhibits a local artist's work. The artist get to display their art for free and sell it with no commission charged. Any artist interested in exhibiting their work can apply to be the artist for a month.
Agora is also involved in employment training. They partner with Red Cross to run hospitality training. They are also involved in the Gateway programme through Fraser High School.
Another initiative Agora is involved in, along with several other churches, is called 'Hill Tribe Hope'. This benefits people from a cluster of villages in Northern Thailand, a region notorious for growing opium for the drug trade, and where some of the poor Hill Tribe farmers sell their children to the sex trade to supplement their income.
A number of initiatives aim to improve the health, education, and prosperity of the Hill Tribe people. The City Bible Church financially contributes, while Cafe Agora contributes by purchasing Lamai coffee and taking tips for Thailand. The coffee provider is owned and operated by the Thai farmers. The coffee is good quality, single origin.
Cafe Agora is well worth a visit. Alongside all the good work they are involved in with and for the community; they also provide a family friendly space that provides healthy food options, an on trend delicious menu, and a great cup of coffee.
City Bible Church will be 20 years old on February 4. They have planned their celebrations for Waitangi weekend.
For more information go to www.cafeagora.net.nz.