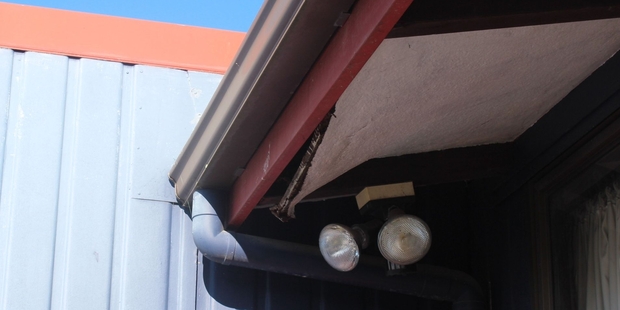 The sinking sections saga continues as a Hamilton Lake resident comes forward, likening his house to "a bad relationship".
Michael Eastwood said he just feels hate toward the property, as gaps appear between the beams, floors buckle, and windows and doors do not open.
The Hibiscus Ave property was built in the 70s on concrete piles which have not been deeply driven like those in Wimbledon Close in Nawton, and have sunk in places causing the roof to leak, along with the other issues.
Hamilton News reported last month that several sections in Thorton Estate in Hamilton West have subsidence issues, some of which are severe.
Mr Eastwood has been quoted $6000 to fix the floor and roof, and $8000 to have the garage underpinned. He estimates a cost upwards of $45,000 to repile the house, money he does not have.
"The garage was added much later, but it has great big wooden piles and you can see the floor has sunk because there is a mark where they painted the post.
"I hate the house now, I hate it so much I just don't do anything. It is a spiral of doom. If your car starts falling to bits, are you going to be bothered washing it anymore?
"When I bought it, it wasn't exhibiting the same problems. I think they had recently packed it. The deck has now subsided under the piles and it's just sort of floating."
The house was purchased nine years ago for $242,000 but he said he does not think it has increased in value. "I honestly don't know if I would pay much more now. "
He said the issue is widespread like the leaky homes issue. "People think 'it is just my problem' but you walk up the street, it is not just my problem.
"All the paths are cracking. In summer it gets worse, I can open the back door now, but in summer it is really hard, because the whole house sinks because the peat dries out."
Councillor Dave Macpherson said it is a difficult issue.
"There is no real place for the water to go. You'd have to have a pumping system down there I'd have thought.
"Council didn't pay much attention to things like that back then. At some point the council is going to have to address the issue, we can't just ignore it. If you have home owners with houses that are sinking, you can't just leave it and do nothing. It may be that EQC has to come to the party?"