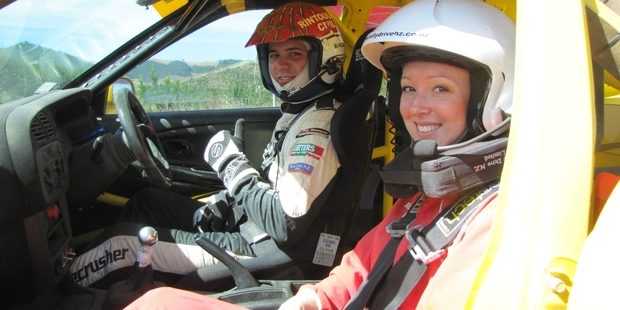 It was a perfect Sunday morning at Maramarua Forest. As I prepared for my rally experience, I became increasingly nervous.
I like to think I'm a good driver, but getting behind the wheel of a powerful car ... I wasn't so sure anymore. Would I crash? Would I be able to control the car? What if I was bad at it?
After seeing several others in my group get in and tear off and come back smiling from ear to ear, but covered with a fine layer of sweat, I was beginning to wonder if I was cut out for this at all.
I went for my look around the track with one of the instructors - it didn't help my nerves to look down the surprisingly high hills and impossibly tight corners.
Hairnet, helmet, neck brace, flattering overalls, check. The nerves weren't getting any better. Breathe.
Dale Perry, the instructor from Rally Drive NZ, seemed remarkably calm. I didn't quite get how he managed to sit next to inexperienced drivers as they handled a powerful car around a gravel track without looking like he was about to jump off a cliff, without the parachute.
First gear, second gear, third done, clutch, tap break, accelerate. All actions I do on a daily basis as I drive my little Nissan Pulsar.
I can tell you now, my little car has nothing on a Mitsubishi Evo 3. As Dale coached me around the track my nerves started to slow a little. Then we got to the hill. For someone who likes heights, I do not say this lightly, it was a BIG hill. Don't roll, don't roll, don't roll. My mind kept screaming BRAKE BRAKE BRAKE. I managed to overcome my natural instinct and listen to Dale - I conquered it.
Most of the track I managed with surprising ease, until one of the last turns was just a little too tight and bumped the tractor tyre in to the middle of the track.
The second of my three laps was probably my best, even if going around the dislodged tyre was slightly challenging.
Third time I was feeling much more confident in my ability. First half of the track, mastered. Overcoming urge to stomp on the brake, not so much. But with quick instruction from Dale, we were back to getting it right. Finally, the corner that was determined to see my demise - perfect.
Grinning, I extracted myself from the car. "Fun?" one of the group asked me. "Yep!" I replied, but my yep was a little more than just a yep, it was more something along the lines of "best thing I've ever accomplished so far!"
If I thought I had been driving fast, I had another thing coming.
Getting back in the car, but this time as the passenger for my hot seat thrill ride, we flew around the track, hitting speeds up to 140kmh.
I think my poor heart took at least two days to calm down, but the adrenaline rush was well worth it.
What I realised, though, aside from all the fun and bucket list ticking, was the amount of skill it gives you for driving on a day-to-day basis, and how much more energy and focus I need to give my driving.
I would highly recommend trying rally car driving to anyone.
Whether it is you behind the wheel or in the passenger seat for the hot seat ride, if you've just got your licence or you want a challenge, it is worth it for the thrills and the experience you get handling a car around that sort of track.
For more information visit www.rallydrivenz.co.nz.