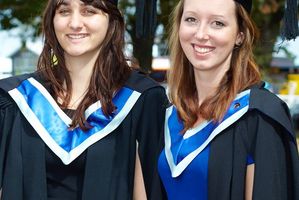 Hamilton News reporter Sacha Harwood is one former student who's helped debunk the myth that graduating students can't find employment.
Nineteen journalism students graduated on Tuesday at Wintec's School of Media Arts graduation ceremony and almost 80 per cent of them have already found employment in the industry.
Fifteen of the 19 graduating students have accepted job offers from a range of national media outlets, challenging widespread impression that jobs in the industry are difficult to find.
Sacha, 20, was the first and youngest of her classmates to find employment. She accepted her role with Hamilton News two weeks before finishing her study at Wintec.
The hands-on experience at Wintec certainly set the stage for employment with Hamilton News. I did a lot of council reporting as part of my multiple internships, so when it came to completing council reporting as part of my full-time job, I was proficient at the skill, she said.
Wintec journalism tutor Charles Riddle said the impressive employment rate is reflective of the heavily practical nature of the Wintec course.
Wintec's journalism speciality is aimed at equipping students with real-world skills. And we work closely with employers in the media industry to do so, he said.
About 1100 of the 1890 students eligible to graduate from Wintec participated in one of seven ceremonies over the past seven days.