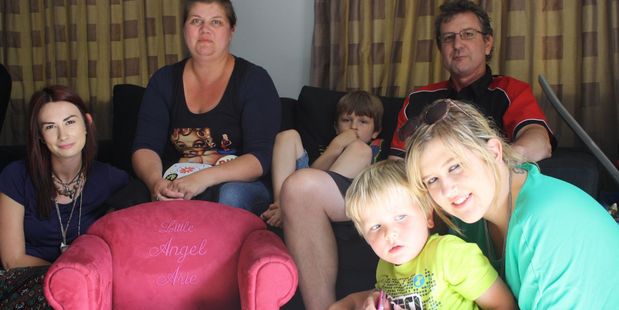 Hamilton parents - one of whom is facing the recurrence of a deadly brain tumour - desperately want to make a dream holiday come true for their young sons.
But that's easier said than done.
Shelley and Adam Muir have dealt with more than their fair share of tragedies.
Their first child together was stillborn, Shelley was diagnosed with a brain tumour and early last year Adam was diagnosed with cancer of the salivary gland. A few months later doctors told him he had multiple sclerosis.
Shelley's tumour has recurred twice and she's facing the possibility it could be back again.
But the couple is eternally optimistic and positive attitudes, humour and love spur them on.
They're also realistic about the possibility of not being around for their young sons for as long as they would like, so they're keenly aware they need to create special memories with Nico, 5, and Asher, 3, while they can.
Disneyland is top of their wish list.
Finances are tight so they've put the cost of the trip on their mortgage. But that's not the end of it.
Because of their conditions, no insurance company is prepared to cover the couple.
If their flights are cancelled because of bad weather, for example, they'll be covered.
But if one of them - or, perish the thought, both - wind up in a hospital in the US as a result of their condition, they'll be stung for thousands of dollars in treatment costs and would be faced with arranging expensive medically-assisted flights home.
The costs would also have to go on the mortgage and would invariably cripple them financially.
Adam, who last year raised almost $5500 for the Multiple Sclerosis Society, says there's a possibility they won't be able to make the trip because Shelley's condition has deteriorated in the past month. The headaches are back and raised intracranial pressure is causing nausea. Her left eye is drooping and she's having trouble with balance.
"We'll have to sell the house to pay for the trip though if the mortgage gets too tough to pay.
"But we have to do the trip ... it's a life-time experience the boys can remember us by.
"We don't want them to remember us as being sick and not being able to do neat things with them."
In an ideal world, the couple could afford to take another family member with them in case they need assistance during a three-week adventure and an insurance company would take a chance on the Muirs. But it's not an ideal world, so Hamilton News is asking readers to help out.
Even if the trip to Disneyland is ruled out on doctors' advice, valuable funds would ensure the family could organise some fun family trips closer to home without having to rack the cost up on their mortgage.
Donations can be made to the following account: Muir Family Trust 01 0311 0191529 50 or donate to that account at any branch of ANZ.