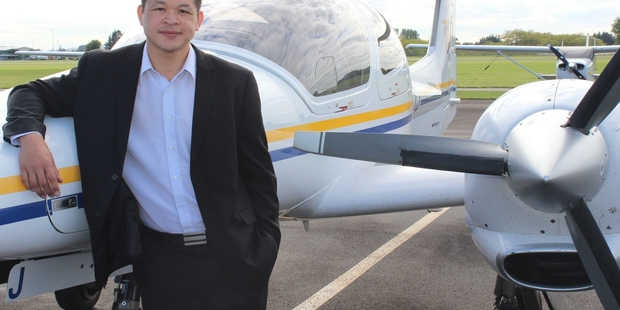 CTC Aviation's latest financial results are good news not only for the Waikato, but nationally.
The England-based company's New Zealand operation posted revenue of $19 million for the 2013 financial year, thanks to a boost in cadet numbers.
Acting manager for the New Zealand operation Julian So said 282 students began training at the Hamilton airport-based school, compared with 186 in the 2012 financial year.
"That's a significant increase which we put down to growth opportunities that we have been working on in a couple of regions, combined with the continuous demand for high quality pilots," said Mr So.
Those growth opportunities centre around relationships being built with airlines based in Hong Kong and a cadet contract that CTC won with Qatar Airways earlier this year. There was also significant growth within CTC's traditional European-based partners.
While much of the revenue heads offshore, analysis showed that there was about $80 million indirect benefit for the New Zealand economy.
"The students bring a lot of positive economic benefits to New Zealand," said Mr So.
In addition to spending on accommodation and entertainment, overseas cadets often saw much of the country as tourists and promoted their experience of New Zealand in their home countries.
"Families often come out to New Zealand," he said.
"They're sometimes investing a lot of money into this training so they want to see what we do here. And then they will generally stay and see some of the country."
CTC Aviation has plans to grow Hamilton cadet numbers.
"We can increase capacity by about another 20 per cent," said Mr So. And while student numbers could, in theory, grow by more than that, the operation is somewhat governed by local air space and air traffic control capacity.
CTC is about to expand its training facilities further afield. The company is expected to decide on a training location in Asia to capitalise on the projected growth from the Chinese and Indian markets.
"It's estimated that we will need close to 450,000 new pilots in the next 20 years," said Mr So.
That figure is driven in part by growth of airways in Asia and retirement of pilots working now.
However, based on the number of trainers globally, Mr So estimates that only about half the number of pilots needed are being supplied to the market.
About 60 per cent of CTC's Hamilton-based cadets come from Europe. Kiwis make up about 5 per cent and the balance come from countries such as Japan, Hong Kong, Brunei and Singapore.
European students generally train in Hamilton for about eight months, while others might be here 12-18 months depending on the requirements of their particular country.
CTC accepts just 5 per cent of applicants to ensure cadets "are of the right calibre and attitude". Some cadets pay 100 per cent of their tuition fees. Others are fully or part-funded by airlines that pilots will be contracted to for a period after they graduate.
"It's a big investment these people are making to become a pilot, so the important part is making sure it leads to positive career prospects," said Mr So.
Which it invariably does as the company boasts a near-100 per cent employment rate.
CTC Aviation trains about 2000 pilots annually for about 50 airline clients, including easyJet, British Airways, DHL, Jetstar, Royal Brunei Airlines and Thomas Cook.
The parent company reported a 46 per cent increase in sales for the year to NZ$78.8m. CTC Aviation is the 14th fastest-growing UK private company for international sales.