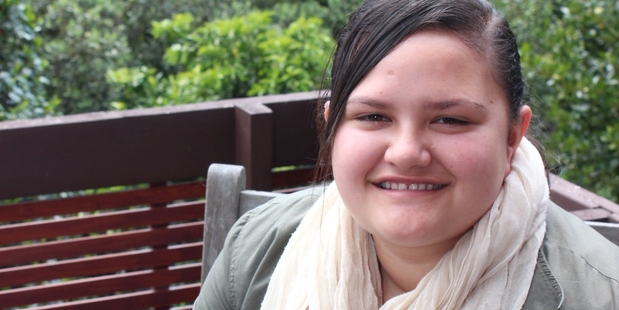 Charm Skinner could easily be a poster child for Buddy Day.
Held across New Zealand on November 15, Buddy Day is a community event that aims to raise awareness and start conversations about the role adults play in preventing child abuse.
The plucky 18-year-old is starting the conversations by talking about the verbal and emotional abuse she dealt with growing up and how she has put that behind her.
Charm is on the path to a career in politics, bolstered by her selection earlier this year as a Youth MP where she represented Labour MP Nanaia Mahuta at Youth Parliament.
The Year 13 Hamilton Girls' High School student is open about her childhood.
"Throughout my life I was subjected to heavy marijuana use and suffered the devastating effects from verbal abuse," says Charm.
"As I got older, the verbal and physical abuse started becoming more violent and regular."
Her self-esteem at an all-time low, Charm's Auckland-based grandparents and uncle encouraged her to get the best out of her education and took her away for holidays at every opportunity.
The situation came to a head in February 2011 when Charm fled the family home and went to live with another grandparent nearby. That situation wasn't ideal, so Charm now lives with her aunt and uncle.
"They provide me with stability and, for once, I have been shown what it's like to be part of a family," she says.
Despite Charm's childhood, she applied herself at school and her academic record speaks for itself.
"I am very passionate about education and especially being a young Maori student who, according to statistics, shouldn't be in this percentage of students that have done well."
Charm was recently awarded a Jubilee scholarship from Auckland University that will see her receive $2000 toward tuition fees each year for three years.
If she passes all her NCEA exams, Charm will have earned a place at Auckland University where she will work toward a double degree in law and politics.
Charm has also been awarded $1000 toward her tertiary studies from the ex-Vietnam Service Association Children and Grandchildren's Trust and was honoured by her school with an award for outstanding effort.
"I want to show others that they can achieve no matter what or where they come from," she says.
"I want to be a voice for all, no matter ethnicity, gender or sexual orientation.
"I want to be a voice for the ones who weren't shown how to voice their issues, for the ones from broken families where they weren't taught right from wrong, or encouraged to gain an education, for the ones whose parents neglected them and brought them up around violence and drugs.
"No one has the right to take away your education. You have the ability to achieve high grades and do well in school and gain the education you are rightfully entitled to. I have done exactly that and achieved higher in my education than I ever thought possible."
The day Charm left her parents' home for the last time her father told her "you won't ever achieve your dreams".
Charm's dream is to be a Labour MP. You can bet she'll achieve it.