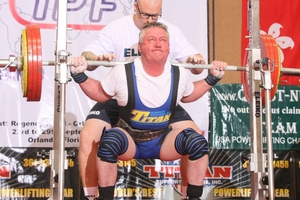 Hamilton powerlifter Tony McKenna exceeded his own expectations at the World Masters' Powerlifting Championships by winning two medals.
He says the medal-winning experience proved quite emotional as he had always tried to excel in sports but was dogged by bad luck and ill health.
The 61-year-old latecomer to the sport registered fourth overall in his 83kg category with a second placing to third-time Canadian gold medal winner in the benchpress, a bronze medal in the squat and sixth in the deadlift.
Tony squatted with 205kg, benchpressed 140kg and hoisted 200kg in the deadlift.
He is now targeting the British Commonwealth champs in Manukau this December and the 2015 world champs in Denver, Colorado.
Trainer Scott Parsons says Tony is an amazing talent for his age.
"He is testimony to what can be achieved through dedication and developing core strength," said Scott.
"Tony had dodgy hips six years ago and at one stage he was considering a hip replacement. Now he has exceptional strength and mobility."
In his youth Tony had promising starts in a number of sports - boxing, gymnastics and roller skating, athletics and cross country running. He says he had just gained selection for the Hamilton Marist senior rugby squad when he was hit by a car and trailer while hitch hiking.
That incident pulled the curtain down on all sporting activity for 20 years.
Tony says overcoming issues made him all the more proud to stand on the dais to receive his medals.