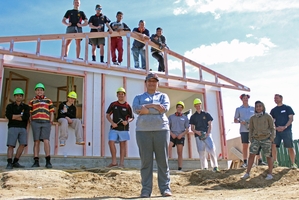 Hamilton high school students are helping to build a new life for a family in need.
Habitat for humanity, four high schools and 100 students have chipped in to build a new home for Saphire Tai-Raken, her partner Manaia Johns and their four children under eight with twins on the way.
Tai-Raken was on site helping with the build. She was amazed by how fast the house was going up.
"We very grateful for all the work the students are doing, and the assistance from everyone on site. They are just amazing," she said. "We are very lucky. I can already imagine my family living in some of the rooms - and making a mess."
Habitat for Humanity resource development manager Karlijn Nelissen said this is the biggest student build Habitat's Central North Island affiliate has ever done.
"It's the first time we have the students building a house," she said.
The build takes nine days to complete, with 12 students from a different school on site each day. It was Hamilton Boys' High School's turn on day two of the build, when Hamilton News checked out the project. Teacher Phil Basel said the boys were enjoying the whole experience.
"They are all really into it," he said.
Melville High School, Hamilton Girls' High, and Diocesan School for Girls are also participating.
The schools were given a challenge where they can earn points for onsite safety, showcasing team spirit and a social conscience.
"One school will take home a prize at the end," Nelissen said. "You can follow the students' progress on our facebook page where they post updates and pictures throughout the build. We go into class and teach [students] about decent housing and its importance, and the effects poor housing has on families."
The programme focuses on getting students active as volunteers and demonstrating to them that they can play a role in creating better communities. They also share in the rewards of finishing a new house when a family gets its keys.
"One day they can drive past and say 'I helped build that house'. And the boys can impress their girlfriends," Tai-Raken said with a laugh.