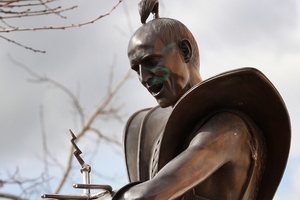 Plans are progressing to breathe new life into Embassy Park.
A brain-storming session last Saturday saw dozens of people attend, from councillors and business owners and operators (from within the CBD and other parts of the city) to the public.
Hamilton Central Business Association general manager Sandy Turner was pleased with the turnout and welcomed input at the meeting from some members of the group of vagrants who spend time in Embassy Park - also known as Riff Raff Park.
The makeover is being spearheaded by international "place making" consultant David Engwicht. He's working pro bono on the project.
Ms Turner said Mr Engwicht's only request was that there be "some mutual understanding and goodwill towards some of the people who currently use the space".
Ms Turner said the project would make use of the space's natural contour and include a stage area that could be used for al fresco performances.
Part of the park will embrace a Rocky Horror theme and will incorporate a themed coffee cart and toilet block, which will be moved back towards the river.
Other aspects that are likely to be included are Maori carvings and a pavement design that will tell the story of the Waikato.
Ms Turner said the project had garnered plenty of volunteer support. Plumbers, electricians, builders and artists had attended Saturday's meeting and offered their services for free.
There are now people heading up individual parts of the project and have been assigned volunteers.
Ms Turner said Riff Raff Park was "a part of the city that's obviously unloved" which attracted antisocial and "possibly illegal" behaviour.
She hoped that by boosting the area's vibrancy and attracting move visitors it would naturally discourage such behaviour. "Creating a space that is fresh and vibrant will see a dilution of antisocial issues," she said.
It is hoped the council would issue resource consents for the works before the October elections.
Much of the building and behind-the-scenes work will be done off-site and will be installed in one weekend in March.
There are plans for a Facebook page where people can follow the park's redevelopment.