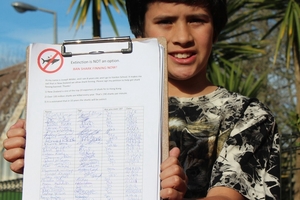 Joseph Wilder has collected more than 1000 signatures on his petition to ban shark finning. And he's gifted it to Greenpeace, which is hoping the petition will be tabled in Parliament.
So passionate is Joseph about everything and anything to do with sharks that when he was studying them for a school speech and discovered that New Zealand is one of the top 20 exporters of shark fins to Hong Kong, he felt compelled to do something to help.
So the 8-year-old Vardon Primary pupil started a petition. Accompanied by family members, Joseph spent hours canvassing for signatures at The Base, Chartwell, Rototuna and Cambridge. The vast majority of people were happy to sign the petition.
What upset Joseph the most was the inhumane way in which the fins are collected. "They're cut off and then the shark is thrown back into the sea," said Joseph.
"It's still alive and because it doesn't then have its fins to swim it either drowns or it gets eaten by other sharks."
Joseph's mum, Jacinda, said the family had spoken to a Green MP who was keen to take a look at the petition and Labour MP Sue Moroney who was keen to table it in Parliament. But Joseph had decided to pass his petition on to Greenpeace whose adviser is working on which MP to present it to.
Joseph's research turned up some disturbing facts: 100 million sharks are killed each year; that's 190 per second. And he estimates that if something's not done now, entire species of sharks could be extinct in 10 years. "If sharks were extinct the sea would be dirty because they clean up the sea and eat the dead fish," said Joseph.