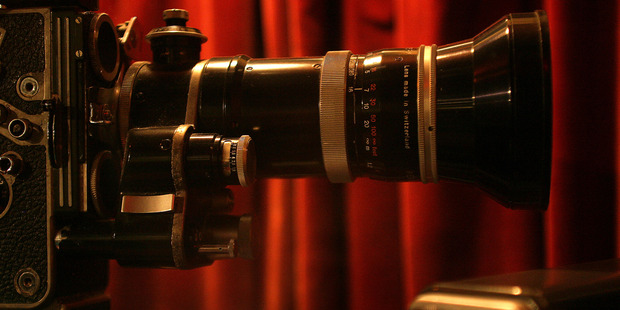 When considering your options for the New Zealand International Film Festival screening at Hamilton's Lido Theatre, don't book for anything; whatever you do, don't plan your life around any particular screening of any particular film.
Try this instead. Wake up on any given morning during the festival, feel like watching a movie, have a look through the festival calendar in the middle of the programme and pick a title you fancy. Or close your eyes and jab a finger at the page. Either way, step out of your comfort zone and try something new.
I'm a radio-head from my childhood. I love radio, listening to it, appearing on it, making it. Watching Nicolas Philibert's The House of Radio, I was a pig in pig-stuff. I don't think I've been as blissed out as this watching a film for ages. It's a single day in the life of Radio France, where dozens of stations share a giant Parisian cathedral dedicated to the wireless. News, talk, culture, music - classical, jazz and hip hop.
In Oh Boy, Tom Schilling's Berlin student drop-out Niko Fischer mooches around the city trying to find a cup of coffee, thwarted by friends, family and strangers across one long day. There's something about black and white that makes this sort of thing seem like it has more going on than it has.
Also winning, literally and figuratively, is The Rocket, an Australian film set in Laos. An indefatigable young boy, Sittiphon Disamoe, believes himself to be cursed with rotten luck and fate proves him right. He never gives up, though, and Kim Mordaunt's engaging film builds to an explosive and satisfying climax. Crowd-pleasing.
This may be the most New Zealand NZIFF in many years. Local headliners Antarctica: A Year on Ice (Antz Powell's Number 8 wire filmmaking ingenuity produces breathtaking images of the last unspoiled landscape on Earth), Romeo and Juliet: A Love Song (a boisterous and cinematic rock opera re-telling of Shakespeare's romantic tragedy set in a caravan park) and Geoff Murphy's Utu Redux (an essential restoration of New Zealand's first genuine stone-cold movie classic) are joined by smaller scale, personal journeys like the effortlessly winning Gardening with Soul - full of wisdom from Sister Loyola Galvin, the 90-year-old custodian of the Sisters of Compassion garden in Island Bay - or He Toki Huna, Annie Goldson's quietly righteous portrait of journalist Jon Stephenson and his dogged attempts to discover the truth about New Zealand's involvement in Afghanistan.
Hamilton filmmaking is represented by Paul Judge's Don Driver: Magician, a 65-minute distillation of several years of documentary making about one of New Zealand's most interesting and idiosyncratic artists. Driver died in 2011 so never got to see the finished portrait but he would have appreciated Jim Barr's comment in the film that "after all these years he never stopped getting up people's noses".
Finally, war reporter Sebastian Junger has made his first film as a solo director and it is a biography of his great collaborator Tim Hetherington. Told with much love, Which Way is the Front Line from Here? is about a man who used his camera to connect with people rather than as a shield or tool.