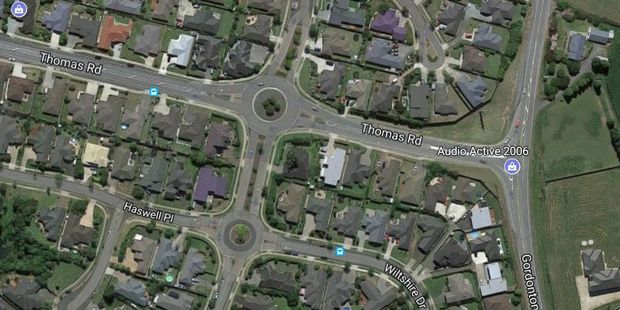 In the wake of another serious crash this week, urgent work was being done on Friday at the Thomas Rd/Gordonton Rd intersection in Hamilton to slow traffic.
Hamilton City Council also announced its engineers were fast-tracking designs for a longer term solution.
On Friday, road cones and temporary traffic signs were going up to slow down drivers on Gordonton Rd from 80km/h to 60km/h where it meets Thomas Rd. The issue has been drivers from the 50km/h Thomas Rd joining the faster traffic on Gordonton Rd.
The council's infrastructure general manager Chris Allen said that immediate work would include traffic management to reduce speeds, while a report on the intersection would be brought forward to October's Growth and Infrastructure Committee meeting.
"We've seen increased congestion and high traffic numbers at this intersection, with a 40 per cent increase in traffic flows between 2012 and 2016.
Unfortunately this has seen a corresponding increase in crashes and we have been working closely with police to monitor this site.
"The variable speed signage has been very effective in reducing crashes in other areas of New Zealand, but until this is installed we are taking further steps immediately," Mr Allen said.
Chair of the committee, Cr Dave Macpherson, said a serious crash this week had further highlighted the potential risks and immediate action was being taken to slow cars down as they approach the intersection.
Three men were injured, one critically, after a crash at the intersection on Tuesday. All of the injured were in the same vehicle when it and a ute crashed at the intersection of Thomas and Gordonton Rds about 9.30pm yesterday.
"Drivers are entering the 80km/h Gordonton Rd from a lower-speed, largely residential Thomas Rd and an error in judgement can have serious, and potentially tragic consequences. We've already done safety work at this intersection before new 60km/h electronic variable speed limit signs are installed in mid-October but we need to do more," Cr Macpherson said.
"Councillors have raised concern over this intersection and the council is making immediate changes. These changes and slowing approach speeds are likely to cause some peak-time delays but safety has to come first." he said.
"We urge all road users to take extra care in this area, and as at all our city intersections, we ask drivers to slow down, drive to the conditions and look twice for other vehicles."