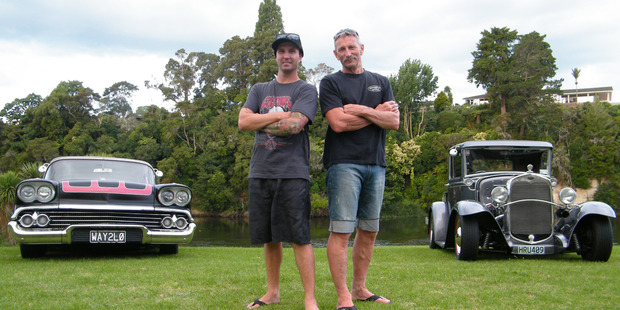 Cambridge-based Stragglers Rod and Kustom club members Jon Robben and Aaron Tucker love their cars.
But being part of the club is not just about machinery — it's also about the people they meet. Both plan to take part in this year's Frankton Thunder automotive festival.
Jon and wife Marlene's all-steel '30 Model A Ford pickup was built from the ground up and has become a head-turner at meets and shows since its completion three years ago.
Read more: Restored car to appear at Frankton Thunder
The old Ford became the focus after the couple realised they had far too many projects.
They said it would be a good idea to get one finished. Marlene had a love of vintage cars so the 'A' was a compromise.
What makes the Robbens' Ford unusual these days is the all-original steel body — increasingly hard things to find in any sort of condition.
Jon called on a few of his friends to help with aspects of the build.
"It started with a pile of junk," he says. "The body was in four pieces with no roof — the original vehicles didn't have a steel roof.
"The front comes from a Tudor and the back (of the cab) from a sedan."
The project started in 2007 and the 'A' runs a mild 350 Chev backed by a 4L60 HSV transmission and Jaguar independent rear.
It gets 15 seconds on the quarter and Jon and Marlene make the most of the busy summer season with events most weekends.
"It's really something for Marlene and me to get out and have fun with," Jon says.
"The club is all about the people. It's a great social leveler, there are so many talented people and we all speak the same language."
Fellow Stragglers member Aaron Tucker, 33, also has a shed full of projects. He can trace his love of '58 Chevs back to an old uncle.
"I had an uncle in Cambridge who had a '58. I got to drive it now and then and fell in love with it."
These days Aaron has two '58s. One he's owned for 10 years came in from California.
"Another uncle of mine was in the US. He called me and said, 'I've found a car you'll like', I thought, 'Do I want to buy a car I haven't seen?' But once I'd seen the pictures I knew it was a bit of me."
This model is powered by the venerable 283 backed by a less-usual three-speed manual shift converted to floor change. Aaron likes the low-ride look but after an incident 'beached' on a kerb, he decided to install airbags.
His second '58 was a rare barn-find advertised on Trade Me.
Aaron replied immediately and got from Hamilton to the rural Te Kuiti property in two hours — ahead of a gaggle of other hopefuls.
"There was no motor and the front sheet metal was off, the front screen was out and the bonnet had a hole in it where someone had tried to put a blower.
"A variety of components including a new bonnet were secured from friends and contacts and the project finished in 2017. "The 'white' model is again powered by a 283 with 350 TH transmission. The twin '58s are popular as wedding vehicles.
Frankton Thunder 2018 will kick off with the Thunder Cruize Toys for Charity drive and ride-in from Cambridge to Hamilton. The drive starts at the Cambridge Raceway, Taylor St, at 8.30am on Sunday, March 4.
The festival is held in and around Commerce St, Frankton. The charity this year is St Vincent de Paul. There will also be displays of classic and custom cars, hot rods, motorcycles, tattoo competition, burlesque, Miss Frankton Thunder, music and retro market.