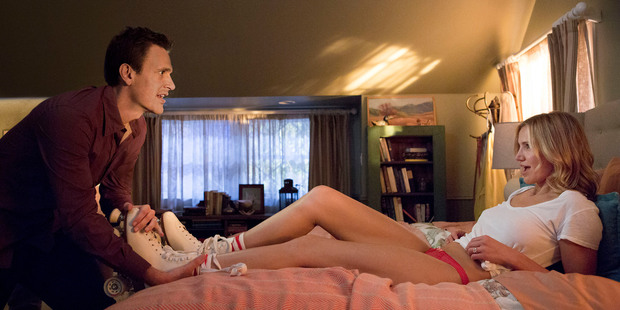 What do you do when the passion in a marriage is replaced by the demands and monotony of being parents? Make a sex tape of course.
That's what Annie (Cameron Diaz) and Jay (Jason Segel) decide to do in an effort to rekindle the passion that brought them together 10 years earlier.
When Annie and Jay met at university it was all about them and enjoying everything about being young had to offer.
Marriage, jobs and two children later, life has become a whole lot more complicated.
Their love hasn't waned, just their time and enthusiasm to show it to each other.
Determined to fight back, Jay thinks a sex tape (just for him and his wife) is just what they need. And it proves to be an outstanding idea -- until he forgets to delete it and the film is automatically sent to the iPads of friends and family.
Panic sets in and the mayhem begins.
Tracking down and deleting the tape becomes the couple's sole mission in life and creates plenty of funny moments.
When Annie realises a potential business partner, Hank (Rob Lowe), has inadvertently been given one of the iPads with the video on it, it starts to get serious -- and funnier: Jay has to search Hank's house without being chewed up by the guard dog.
Throw in a teenage boy who thinks he can extort some blackmail money and some friends who don't want to part with their copy of the tape, and Annie and Jay's stress levels skyrocket.
With an R16 rating you can imagine there are a few moments of an adult nature, but there's nothing smutty.
The couple's sex tape experience is an entertaining jaunt without quite hitting the side-splitting target it may have been aiming for.
Watch the trailer here: