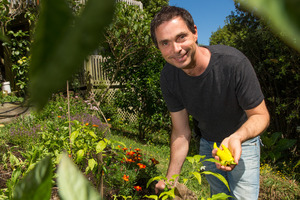 MasterChef New Zealand winner Aaron Brunet has a relaxed demeanour and a passion and talent for cooking superb food.
Colleen Thorpe asks Aaron about his love of cooking and to tell us about his new book, Cook With Me
WHO WAS THE BIGGEST INFLUENCE IN YOUR LOVE OF COOKING? My mother Zora. She always makes food taste great so I grew up really enjoying what I was eating. I cooked with her and now I love cooking with our daughter. It's great to share time creating food then enjoy the results together.
WHAT IS YOUR FAVOURITE TIME OF DAY? Just before sunrise. We usually get up before dawn to prepare for Ani's yoga classes and help Ariana get ready for her very early start on the school bus.
WHO DO YOU MOST LIKE TO COOK FOR? I love to cook for my two girls. We often each have slightly different variations of the same meal and I find it fun tailoring the food to what each of us loves. I also love going to Mum's and cooking in her kitchen with her. We are always sharing tips and ideas, and usually it's for a family meal so we get to spend time around the dinner table with everyone catching up.
WHAT IS YOUR FAVOURITE MEAL? At the moment it's a super yummy fruit breakfast with lots of care put into how each ingredient is prepared. I love making up different toppings like ground seeds and nuts with date and orange zest - tasty treats to sprinkle on top.
TELL US THREE THINGS YOU LEARNED FROM MASTERCHEF NZ I was much better at coping with the pressure of the show than I expected. I made it a top priority to look after myself by eating well, getting enough sleep and regular exercise, including yoga every day. I learned lots from my fellow contestants. We spent time every day cooking together in the MasterChef house and that's where we could bounce ideas around and discover new things. Most important of all I was reminded that what we have in our Raglan life is very special and what lots of people seem to be looking for. We are surrounded by nature, we have the right amount of exciting things going on and lots of really lovely people to share time with.
WHAT WAS THE WORST, THE BEST AND THE FUNNIEST MOMENTS ON TV? I think the worst was realising that by winning the fish identification test I then had to choose who got what cuts of pork for the next challenge. My favourite TV moment was watching Josh say something like "there's chaos everyone and then there's Aaron". I think the funniest bit was seeing Johnny from the South Island crashed out on the couch after his big win at the casino the night before.
HOW DID YOU DECIDE WHAT RECIPES TO PUT IN COOK WITH ME? When I first came home from MasterChef my head was full of fancy restaurant food, then, as I started work on my book, I kept simplifying my ideas and coming back to what really mattered. I wanted people to feel like they were standing alongside me.
WHAT IS YOUR FAVOURITE RECIPE IN THIS BOOK? I'm going to choose My Special Fruit Breakfast from the Yoga Treats chapter. This sums up what I really love: simple ingredients transformed through care and attention into a delicious, exciting and really feel-good delight. You could have all the same ingredients in much less enjoyable ways but why would you? The difference is not cost, time or difficulty. It's the desire and intention to make all the components work together and be the best they can be.
CAN YOU TRY TOO HARD WHEN COOKING TO ENTERTAIN? Oh yes, that's so easy to do. I have a philosophy that I bring to mind at times that have the potential to be stressful in the kitchen. I tell myself that the fun has already started when I start to cook and that it's just a matter of adding more people a bit down the track. If you cook with a happy attitude it is reflected in the food. You allow space for your intuition to guide you rather than letting your head trip you up and do silly things you might not normally do.
WHAT WAS YOUR LIFE LIKE BEFORE MASTERCHEF? It was good in lots of ways but had a bit too much computer/ tech stuff in each day to keep me happy long-term. I was wearing a few different hats: doing tech support for local people and businesses, working with Mum on her rainbow and educational toy business, and also helping Ani with her wonderful yoga studio.
WHAT'S IT LIKE NOW? Now I feel like the balance suits me much better. I have exciting new food product ideas in development as well as getting more involved with Ani and the whole yoga side of our lives. We are about to start offering weekend yoga retreats with an educational feel-good food aspect.
YOU TALK ABOUT COOKING WITH LOVE. WHAT DOES THAT MEAN TO YOU? I always used to wonder what exactly people meant when they said this. It makes sense in a feeling way that cooking with love is a good thing, but how does this actually affect the food? For me, it means the little things that make a difference: caring about the flavours enough that you keep tasting what you're cooking and using your intuition and experience to steer your food to the best place it can be; using "the good stuff" you've been saving rather than skimping; and even just spending the time to make something good from scratch (time can be love sometimes).
YOU HAVE DIVIDED YOUR BOOK INTO INTERESTING CHAPTERS. TELL US ABOUT IT. My book is very personal - it's an invitation into my kitchen, and I chose these seven chapters because they are seven aspects of how food fits into my life. For example there are quick and easy dishes I make on busy weekdays as well as more involved ones for when I have a bit more time. By choosing these chapters I wanted to share what's real for me about the food I love.
WHAT IS YOUR MAIN HOPE FOR READERS OF COOK WITH ME? I'd love them to feel like I'm standing alongside them offering tips, enthusiasm and encouragement, like my Mum did for me. My main hope is that my readers will find ideas in this book that help them make food that really delights them and their loved ones.