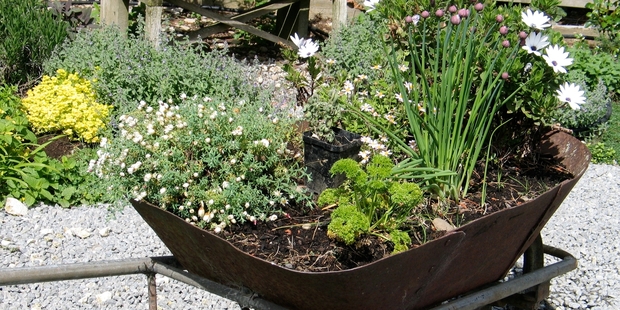 Whenever we decide on a new landscaping project, the first port of call is the junk heap behind the garage, in which resides timber of varying lengths and species, coils of irrigation hose, concrete blocks, plants - some dead, some alive, some still deciding - crippled tools, broken furniture and unidentified flying and non-flying objects. There's more, but I won't bore you with the full list.
We nearly always find something that can be "repurposed" to suit our plans, a case in point being the fibreglass rods that came with the dozen hedge trees we recently bought. Not very organic, I admit, but they proved absolutely brilliant for tying together the final stage of our railway sleeper fence. They're rigid, smooth and easy to hammer in and, better still, they didn't cost anything.
Even better, it meant we could salvage the short pieces of reinforcing iron we'd been saving for the job, and these are now being repurposed as a decorative screen between the pergola posts. Eventually, a pandorea will clamber up them, and the contrast between its delicate pale-pink blooms and the stout black metal rods will be a design masterpiece.
Or not.
I first noticed the increasing popularity of iron as a landscaping material at a Melbourne Flower Show two or three years ago. Shades of rust and tawny brown were everywhere as the Aussie landscape designers followed this ferric fashion in their hard landscaping, using it for panelling, garden edging, sculptures and art panels, cutting and twisting it into whatever shapes they needed.
And, of course, Kiwi landscapers were similarly entranced. In an agricultural country like ours, iron seems right at home and sits easily in the landscape. If you like things to last pretty much forever, as The Landscaper does, it's a great material to use in the garden because it's so permanent. Certainly it rusts, but it doesn't disintegrate at anything like the speed of timber, and it has a rather admirable tendency to retain its original shape, which is more than you can say for many garden materials, and, sadly, many gardeners.
On the downside, it can be heavy, difficult to handle and hard to cut, so don't be thinking you can build a fantastic series of iron archways with a hacksaw and a battery operated drill.
Having said that, if you keep it simple, there's a lot you can do with a few bits of reinforcing iron and a hacksaw, such as construct a timber and iron gate that makes a design statement. If you're in a position to commission an ironworker, or a landscaper who has a tame ironworker, you can have panels, furniture and iron sculpture.
You can also buy interesting iron items in garden centres and hardware stores such as fountains, water features, firepits, basins and decorative edgings.
My preferred method of collection is scavenging. We live in a country area so it's not that hard to find old tools and saws, wheels, chains, lawn rollers, tractor seats and even whole tractors. Although a tractor may not be entirely appropriate for a contemporary urban courtyard, an old gold-mining pan can be reinvented as a water feature, a wall hanging, a firepit or a plant container. An old iron wheel set into the grass makes a great circular potager for your herbs, and even lengths of chain and collections of iron keys are great decorative items. When you're over iron, at least you can repurpose the latter two into something very quirky!