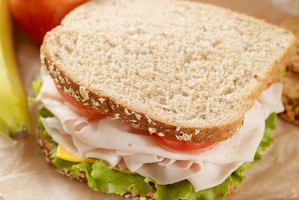 To buy or not to buy? It's the question on many a cash-strapped worker's mind when it comes to work lunches. But it's possible to have the best of both worlds with a bit of forward planning.
Lydia Anderson reports.
Our daily habits
We all have varying habits when it comes to our work lunch routine - some like to mix it up with store-bought sushi rolls or gourmet panini, whereas others are happy with a simple ham and cheese toastie.
But without considering the cost involved, we can end up spending a small fortune on the midday office lunch run.
Two Auckland workers we surveyed had very different preferences about whether buying or making lunch was best.
English language teacher Martin makes his lunch every day, often taking leftovers from the previous night's dinner. He started doing it a year ago, in an effort to make healthier lunches and control portion sizes.
His lunches range from sandwiches or salads to leftover bolognese, stews, or soups.
"If you're making a meal [for dinner] and taking it into work the next day it's not that much hassle," he says
Martin estimates his lunches cost up to $5 each day, plus he buys a daily coffee.
In contrast, his flatmate Sarah, a project officer, always buys her lunches, heading to a bakery or fast-food outlet. She says she doesn't have time to make food at home.
"I don't get up early enough in the morning."
She cuts down on costs by stocking up on muesli bars and fruits and doesn't buy coffees, so only needs to buy her main lunch meal each day.
Sarah estimates she spends $7.50 to $9 a day.
What is your lunch costing you?
Founder of Destitute Gourmet website Sophie Gray is a firm advocate of making work lunches to save money and eat healthily.
She says workers such as Sarah may not think they spend much each day, but are not "doing the sums" on a yearly lunch spend.
A conservative estimate of $40 each week for 47 working weeks a year totals $1880.
Making your own sandwiches or sushi can cost less than half the price of bought equivalents, and a batch of home-made scones often costs less than one bought scone if you have the ingredients, she says.
People justify bought lunches because food is a necessity. Others feel social pressure from workmates to spend if reheated leftovers are uncommon in their workplace, she says.
One of her female readers said her husband rejected leftovers and spent upwards of $50 on lunches each week, a huge outlay for the "cash-strapped" couple.
For those who make their lunches, Gray says it's good to "treat yourself" at times.
One option could be making lunch for four days and buying something tasty on a Friday.
Tips
There are ways to make preparing home-made lunches easier, says Gray.
"Preparation ahead can make a huge difference. [On a] Sunday night, make a batch of muffins and bung them in the freezer."
Freezing single soup servings, pre-slicing cheese and grating carrot to store in the fridge for sandwiches cuts down on preparation time.
Small tins of tuna can be added to a green salad that can be kept refrigerated up to five days in a sealed container.
"If snatch and grab is the way you operate, prepare snatch and grab stuff - little bags of slices of peeled carrot, cucumber and cherry tomatoes can be done three or four days ahead and they'll sit happily in the fridge."
She also recommends utilising workplace facilities such as toastie makers, microwaves or toasters.
For more tips go to www.destitutegourmet.com