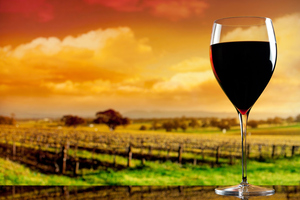 Spring has well and truly pole-vaulted itself across my desk and demanded I divert my attention away from all those websites selling groovy dresses and instead focus on some fabulous new daffodil-friendly wines.
This time of year the air smells different.
It's the fragrance of new blooms and sap rising in the tree bark; the scent of cut grass as long-abandoned lawnmowers are pull-started into action again and everywhere I sniff there's the perfume of pure joy.
People can finally see a way out from a ropey old winter.
I'll be much happier, however, when I've paid the $454 power bill from August that's been hanging around like a bad smell.
I almost had a conniption.
Well, that's what renting a woefully under-insulated house with a prehistoric heat pump in Christchurch will do to you.
That, and kids who can't turn off a light switch to save themselves and a husband notorious for leaving the oven on.
But I digress.
Today this column is all about arresting, aromatic wines that have more spring in them than a Sealy Posturepedic, and to start, are two delicate white wines made from pinot noir.
Quest Farm Central Otago Vin Gris 2011, $20
A pinot noir made in a "grigio" style, which means it's bony, crisp, dry and white.
Hand-picked, each lot is pressed gently in a Champagne press (to minimise skin contact with the juice) and then fermented in small batches and blended with a splash of 10 per cent pinot gris to flesh out the palate.
It has the faintest touch of pink gold colour and has developed aromas of white peach, pear and apple skin.
It is round and luscious, fresh and tangy with fabulous concentration.
It's getting better with age too.
Richmond Plains Nelson Blanc de Noir 2012, $20
Richmond Plains produced New Zealand's first organic and biodynamic sauvignon blanc and then pinot noir.
Their Blanc de Noir is a spring sensation produced entirely from 100 per cent hand-picked pinot noir with a blush of rose gold colour.
It oozes aromas of white flowers, pollen, pear and stonefruit.
In the mouth it bursts with ripe nectarine and intense citrus concentration - a new and very nice take on noir ... www.organicwines.co.nz
Lake Hayes Central Otago 'Noble' 2012 375ml, $25
You'll need to visit your dentist to sort out those cavities before launching into this. Intensely sweet, but beautifully balanced, this blend of 88 per cent sauvignon blanc, 11 per cent late harvest pinot gris and 1 per cent late harvest riesling has candied apricots, toffee, and honey-grilled citrus.
Ultra-sweet, marmaladey magic, this treat is refreshing and deserves attention.
Waimea Estate Nelson Gruner Veltliner 2012, $25
Back to Nelson, the sunshine capital, with the pronounced (Groo-ner-velt-leener), it might be the signature white variety of Austria, but it's thriving in Waimea's Annabrook vineyard. This is their third vintage and I like the soft, delicate aromas of baked stonefruit and sea air alongside hints of spice and a ripe, fruit-custard character on the finish. www.waimeaestates.co.nz
The Doctors' Marlborough Gruner Veltliner 2012, $22
Also in it's third vintage, the 2012 is, according to Doctors John and Brigid Forrest, their best one yet and seems to be adapting to their stony, Wairau Valley sites nicely. It's light, lipsmackingly crisp and has clean nectarine, citrus pith and subtle hints of coconut.
Very nice and I'd like to try it again in 12 months.
Austria have given us gruner veltliner, Sigmund Freud, the sewing machine, Arnold Schwarzenegger and more Nobel Prize winners than you can point a pipette at, and they also grow a sneaky little red variety known as St Laurent.
It's a variety the team at Forrest Estate have been planting small parcels of for the past 10 years.
The Doctors' Marlborough St Laurent 2012, $25
The winery's second attempt. Assistant winemaker Chris Andrew has an affinity with Austria, travelling there each year to make wine at Salomon Winery in the Wachau - so he's been instrumental in helping Forrest Estate grow the grapes and make this wine. It's bright, raspberryish and, despite being tasty, it's low-impact - only 10.5 per cent alcohol.
There's a nice dried herb note on the finish too, which I like. www.forrest.co.nz
The Dry River Martinborough Tempranillo 2011
It's not everyday that iconic Martinborough pioneer, Dry River, release a new variety (the last time was in 2006 with their viognier) but this spring sees them test the waters with tempranillo.
After trialling three vintages of this snazzy, Spanish variety on some top-grafted pinot vines out behind the sheds at their Craighall vineyard, they're chuffed to be able to offer a scant few bottles to the public. Available to those on their mail order list only (so best you sign up). If you're one of the lucky ones, prepare yourself for essences of bright fruit, mint, cocoa, roasted, nutty notes and seasoned saddle leather. It is ripe and fleshy and destined for the long haul. www.dryriver.co.nz
Coney Pizzicato Martinborough Pinot Noir 2011, $27
According to Tim Coney, his grapevines on Dry River Rd thrive on a steady diet of 70s music, therefore he owes the Beatles, the Eagles and Little River Band some of the credit for creating a pinot noir that recently was awarded Gold at the prestigious London International Wine Challenge. The 2011 Pizzicato (all of Tim's wines are given musical monikers) Pinot Noir made by Tim's talented daughter and winemaker, Lisa, also claimed the regional trophy for best pinot from Martinborough.
It is ultra-fruity on the nose and bursts with with ripe raspberry and cherry characters.
I love the warm, succulent, juicy, spiced-fruit and dried herb flavours and its long, savoury finish.
So I'd be chuffed too if I were Tim, although I'm not sure he wants to make too big a deal of it all, he did tell me a little joke the last time we spoke.
"What's the difference between God and a winemaker? God doesn't think he's a winemaker". Hmmm, I wonder what Lisa would think? www.coneywines.co.nz