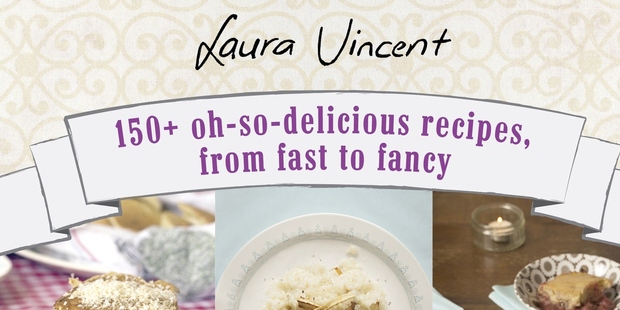 Laura Vincent has gone from blogger to author with this new cookbook.
There are hundreds of cookbooks on the market, so to have a point of difference is not that easy.
However, I think this Wellington cookbook author has hit the nail on the head with Hungry and Frozen. The point of difference for me is the range of recipes - ones I've never come across before.
I love the look of the fried courgettes marinated in sherry, thyme, garlic and Greek yoghurt. And even better, while the name might be long the list of ingredients isn't. Or how about bacon baklava, or spicy chickpeas with tomatoes and coconut milk.
The recipes in this book are simple and tasty and will inspire cooks to have a go at something new.
I asked Laura some questions.
HUNGRY AND FROZEN - I WAS EXPECTING RECIPES USING FOOD FROM THE FREEZER.
TELL US ABOUT THE BOOK'S TITLE
Fair enough. It's named after my blog, which I've been writing since 2007 and so while it's a title I'm very used to, I can understand how it might sound a bit strange to a newcomer. Hungry and Frozen reflected my surroundings when I started the blog as a student living in a damp old Wellington flat, and has stuck with me as I've moved on through graduation and jobs and houses with actual insulation. It's a quote from the musical Rent, which I am unashamedly obsessed with.
WHAT MADE YOU DECIDE TO GO FROM BLOGGER TO AUTHOR?
My longing to write a cookbook has been around since well before blogs were common - since before I even had internet access. I'm lucky that I found blogging, so I could express myself on my own terms, and even luckier that my wanting a cookbook coincided with Penguin liking what I do.
WHAT INSPIRED YOUR LOVE OF FOOD?
My family are great eaters but growing up, it was largely about practicality. I was constantly at dancing lessons, fuelled by two-minute noodles - but from a young age I loved reading cookbooks as if they were story books, and imagining the things I could make. I was lucky that my parents let me muck around in the kitchen relatively freely, and it grew from there. However, it wasn't until I saw Nigella Lawson on TV that the passion for cooking really got hold of me - her joy in food and eating was like nothing I'd seen before.
HOW DO YOU COME UP WITH NEW RECIPES?
It's just something my brain seems to know how to do. There are things it lacks - I'm forgetful, I often have to look at my fingers when I'm counting, and I don't know how to drive - but I could write a whole new cookbook tomorrow because I have so many recipes in my head. I just love pondering flavours and textures and ingredients and thinking about adding new dimensions to old classics or making a new trend more familiar. It's good fun.
TELL US ABOUT YOUR BIGGEST DISASTER IN THE KITCHEN?
Oh, where to start. I tend to be pretty clumsy and in a hurry, so disaster follows me round in the kitchen. I once put the oven to the wrong setting and grilled, instead of baked, a pavlova. You know those charcoal briquettes used to help light fires? That's what I had cooked up.
WHAT IS YOUR FAVOURITE MEAL?
I love pasta so much - ye olde spag-bol, fancy pappardelle, mac and cheese, I am a fiend for it.
FAVOURITE KITCHEN GADGET?
I love my food processor, even if it is a pain to clean. But the thing I use the most would be my electric scales - flour-dusted and battered though they are - they're the best for accurate baking.
WHAT'S A CHEAP, NUTRITIOUS MEAL?
I promise I'm not just saying it because it's in the cookbook, but a can each of chickpeas, tomatoes, and coconut milk simmered with lots of spices. It's warm, hearty, and fast. Perfect to eat while curled up watching a movie or late at night when you're exhausted, without making you feel like you're entirely ignoring your personal nutrition.
IF YOU COULD TAKE ANYONE IN THE WORLD TO DINNER WHO WOULD IT BE?
I have a great big crush on Tom Hardy, but I would probably be too awkward around him. So: Amy Poehler. She's a fantastically hilarious, inspirational, cool woman and I bet she'd be good company and would tell me kindly if I had food in my teeth. Which is likely.
RECIPE
HALLOUMI & PANCETTA MAC & CHEESE
Forget what you know about macaroni cheese. This is not as intense as it sounds, although I say that as someone with a high cream threshold. The dash of mustard and nutmeg tempers the oleaginous, mouth-filling quality of the remaining ingredients - it's an exquisite balance of down-home and high-class. Serves 4
INGREDIENTS
300g dried macaroni
150g pancetta, diced
200g halloumi, thickly sliced
20g butter
1 tsp mustard powder
2 tbsp flour
2 cups cream
fresh nutmeg
METHOD
Preheat oven to 200C.
Bring a large pot of salted water to the boil and cook the macaroni in it according to packet instructions.
Fry pancetta in a large pan until crisp and dark pink. Lift it out of the pan with a slotted spoon and arrange evenly in the base of a 20cm x 30cm (or thereabouts) oven dish. Fry halloumi in the same unwashed pan, then evenly arrange the slices on top of the pancetta.
Still in the same pan, melt the butter and stir in mustard powder and flour until thick, then slowly stir in cream. A whisk is particularly good here. Simmer until thickened.
Drain the macaroni, tip it into the roasting dish along with the cream sauce and mix carefully. Grate over a little fresh nutmeg and bake for 20 minutes, until golden on top.
Copyright Laura Vincent, 2013; photography Kim Laurenson and Jason Aldous, 2013
Hungry and Frozen
by Laura Vincent, Penguin, $40