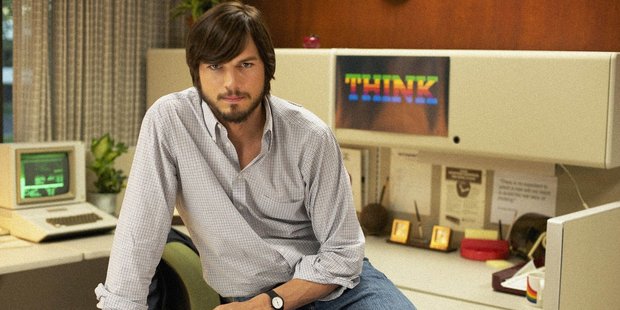 Steve Jobs should not require any introduction.
As one of the most revered creative entrepreneurs of the 20th century he almost single-handedly changed the way we communicate and enjoy music.
Jobs, the movie, is the story of his humble beginnings in his father's garage to his place at the top of Apple Computers.
We know of the Jobs reputation but we do not necessarily know about the man behind the empire.
And it is somewhat surprising to discover that the drive that took Jobs to the top was also the drive that upset and hurt many people along the way.
Jobs (Ashton Kutcher) was obsessed with his vision and seemed to care little for the people who helped him along the way.
Co-workers were mere functionaries to enable him to achieve his goals.
From his earliest days, one man stood by his side and played a huge role in making the Apple concept happen.
Steve Wozniak (Josh Gad) was the man who made Jobs' vision a reality.
He was a simple guy who just wanted to have fun while indulging in his love of computers.
Despite a long and close history, Wozniak was ultimately to leave Jobs side when the fun was gone.
Jobs' rise to the heady days of iPods, iPhones and iPads was not without its testing times. He struggled to make his initial breakthrough, he struggled to convey his vision at times, and ultimately, monetary constraints within the company saw him sent out the door.
It is hard to fathom Apple Computers without Steve Jobs.
But with the company near to hitting rock bottom, Jobs was brought back into the company to rediscover the dream he began with. And the rest is history.
Jobs tells a fascinating story about a man who truly has influenced millions of lives.
Jobs
(M) 140 minutes
Rating: 3.5 / 5