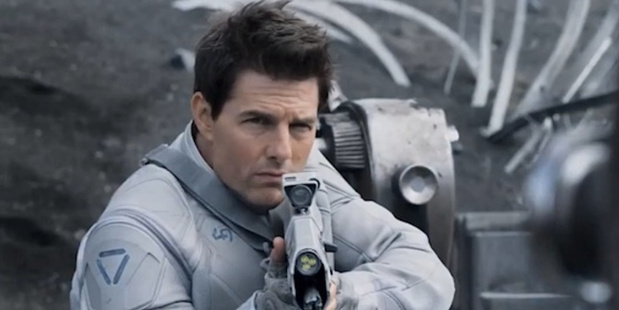 We've always had a fascination with the future, whether it be strange futuristic worlds as in The Hunger Games, Elysium or Oblivion, Hollywood seems to want to show us what is in store for us.
Jack Harper (Tom Cruise) is a security repairman in 2077.
He is assigned to the desolate, nearly ruined Earth with his companion, Victoria, and lives on the surveillance station Tech 49.
It is his job to repair drones that protect power stations using the ocean to supply energy to Titan, the new human outpost on Jupiter.
He is told that his enemies on Earth are the alien invaders Scavengers or Scavs.
The Scavs roam the crevices and rubble on Earth and will take any opportunity to create even further damage.
Jack doesn't know how it all came to this - it is compulsory to have your memory erased every five years and he has only limited flashbacks to a better time.
The arrival of the mysterious Julia (Olga Kurylenko) triggers even more questions and memories, starting a chain of events that only Jack can resolve.
Jack must determine what is truth and what is fiction.
Oblivion is one of those movies that requires close attention.
The plot moves quickly and can become confusing if you don't concentrate.
But it does offer plenty in terms of plot, action and drama.
Oblivion
(M) Universal
Rating: 3.5 / 5