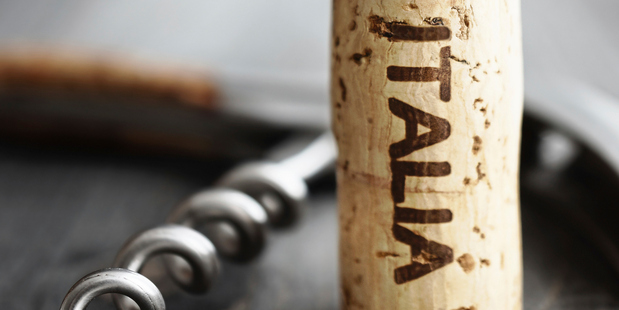 If you like a little bit of mama mia in your glass, but you're unable to source much in the way of Italian wine from your local store then here's a bunch of reliable websites that are only too happy to hook you up; meaning fantastico Italiano vino is just a click away! Glengarry's has a section of its store devoted to Italy right here www.glengarrywines.co.nz/italy.jsp and www.blackmarket.co.nz has an Italian section which also features some good 1.5-litre bottles for when you have an extra special thirst.
Trust www.touchofitaly.co.nz to provide an excellent resource for all that is authentically Italian, and its wine selection is no exception. For certified organic ERA and La Natura wines, you'll do well to visit Prodotti d'Italia at www.pdi.co.nz, and for a small but perfectly formed selection of affordable and "treat yourself" examples just type "italy" into the search bar of www.advintage.co.nz and you'll be away laughing.
There's a saying (although I'm not sure who actually said it ... but I'm pretty sure it was an Italian) that goes, "Where the orchards grow, the olives will grow and the vines will also grow ..."
When you consider how good places like Central Otago, Marlborough, Hawke's Bay and Nelson are at growing all those things - the proverb tends to ring true.
So it's little wonder that there are pockets of land in New Zealand perfect for growing Italian varieties. Here are a handful setting their roots down in our southern climes ...
Arneis
Although still rare here, arneis is one of the most exciting emerging varieties. Pronounced "Are-nay-iss", it's a traditional grape of northwest Italy's Piedmont region. "Arneis" translated into English means "little rascal", mirroring its moody, fiddly nature in the vineyard. However, the end result is a lovely floral, almond-like, white peach-infused wine that is bound to win friends and influence people.
Muscat
A prolifically grown variety across the Mediterranean, Muscat is rarely seen in New Zealand as a wine on its own. Muscat ripens late in the season, and most of it is planted around Gisborne. Most of the grapes are used to add an inviting, musky perfume to low-priced sparklings, modelled on the Asti Spumantes of northern Italy. Some superb local examples include: Soljans Fusion Muscat, Bernadino and Millton Sparkling Muskats at Dawn.
Dolcetto
Extremely scarce over on this side of the globe, there was just a whopping 2ha planted (mostly in Northland) here in 2012. Dolcetto is grown in the north of Italy, where it produces juicy, punchy, dark-purple reds, which are lovely even when really young. Try the Heron's Flight from Matakana, Cottle Hill from Kerikeri and Waimea Estate's from Nelson
Marzemino
Once famous but rare today, marzemino is cultivated in northern Italy where it is known for its light, plummy reds. Established in New Zealand in 1995, marzemino was first made commercially by Pernod Ricard NZ under the Church Road brand, in 2005.
Classic Italian food & wine matches
Antipasto - One of the most lipsmacking things to enjoy with this classic assortment of nibbly treats is a glass of something light and slightly spritzy - and that's where an Asti or Prosecco comes in handy. Lower in alcohol than most sparkling wines, they're perfect to enjoy in the middle of the day.
Asti (or Asti Spumante) is made from muscat grapes and is slightly sweet and tropical while Prosecco is less sweet and is made from glera grapes. These snazzy sparklers are superb with salted, pickled, peppered or marinated foods - and therefore excellent with antipasto.
Risotto - Okay, so when it comes to wine it's best to separate whether your risotto is "cheesy" or not. You should never add cheese of any type to a seafood risotto, for example.
One of my favourite wines to enjoy with classic, rich mushroom or beetroot-based risotto, is a light, fruity, gamey Marlborough pinot noir, while I adore a rich, rumpty, oaky chardonnay with my lemon and leek risotto recipe. Once you bring scrummy shellfish and crustaceans into the mix, you can't beat a snappy, herbaceous white wine such as sauvignon blanc or arneis.
Fettucine alfredo - The thing that I love, love, love about this classic dish is the underlying buttery creaminess - so do whatever you can to lay your hands on a glass of rich, toasty chardonnay, preferably one which has undergone "malolactic fermentation" or "malo": this is where the wine undergoes a "secondary" ferment to convert any hard acids into "lactic" acids, making the wine softer and creamier.
Take a look at the notes on the back label of the wine, if it says "creamy" or "malo" then you're in!
Spaghetti bolognese - I love a big, buxom, fleshy, fruity merlot with my bolognese and the reason for that is because it's a wine which has some "guts" to it and you need that rich, meaty character to wrap itself around all the tomatoes, herbs and spicy ingredients in the dish.
Try not to open a merlot that's too young - try to find one that's had a couple of years in the bottle because you'll be rewarded with lovely berryfruit, chocolate and spicy notes. Yum. Now all you have to worry about is whether you're got sauce on your face.
Osso buco - Try finding a good Barolo or Barbaresco to open with this ribstickingly rich, meaty classic. A red wine with a bit of pepper, texture and grunt is what you need and you'll get precisely that with either of these two.
Or you can try a silky Sangiovese, Dolcetto or Montepulciano - all styles that we also happen to make here in New Zealand.
Pecorino cheese - This is a cheese with extreme saltiness, so your ideal drinks' pairings are a bit limited - white wines aren't really going to work so instead go for a big, bold red wine like a syrah or cabernet sauvignon or any red Italian variety. Alternatively, one of my favourite matches for salty cheese is an ultra-crisp, citrus-forward beer. Cheers!