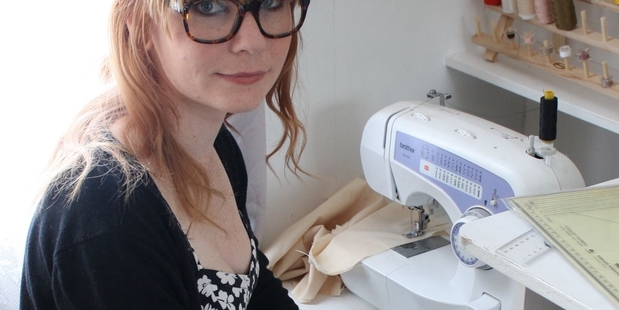 Designer Mallory Xavier didn't anticipate designing children's wear but when her daughter Coco arrived she realised there was a gap in the market she could fill.
A Wintec graduate with a Diploma in Fashion Design and Practice, she has strong ambitions for her self-titled vintage children's wear business which she started in 2012.
"I knew I wanted to do fashion and design but when I was studying I hadn't considered having children. I needed Coco to come along for me to understand children and their specific needs for clothing.
"I found clothing when she was a baby that I liked, then she hit the toddler age and all the clothes were mini adult clothes and it's not really me.
"I like that childhood innocence about what she's wearing. It was about making something that was good occasion wear but also a kid could climb a tree and not ruin it."
Coco is a mini model for the lines. "She loves it. She likes new things and trying things on, she's very much a girly girl, so everyday she'll be getting called in to check fit - my little in-house fit model."
For Mallory, running a business was a learning curve and says it was wise to start out small, especially as she does everything from the original concept to the finish product.
"Every night I am in my work room. During the day, I'll be doing pattern making or cutting. I can't get any sewing done with Coco around. I'm always doing it in some way or another; if I need to get out and do something we'll go fabric shopping.
"We went walking yesterday, so we were location scouting."
Mallory found one of her biggest struggles was getting her name in the market. "I found it difficult being predominantly web-based, getting people really looking at the brand and taking that leap because it isn't tactile.
"I do quite a few markets and they seem to be great for word of mouth. People coming to a market have generally been looking at an item of clothing online and they will touch it and go away and think about it."
Mallory's next collection will debut in March. She makes sizes 1-4 but plans to extend her line down to six months and up to age eight.
Though Mallory aims for her business to bring in the majority of her income, she now works two days a week as a design assistant for Annah Stretton, one of New Zealand's leading fashion designers.
Mallory says the experience she's gaining from working in a team under the direction of Stretton and her head designer is a "dream come true".
Mallory's collections can be viewed at www.malloryxavier.com.