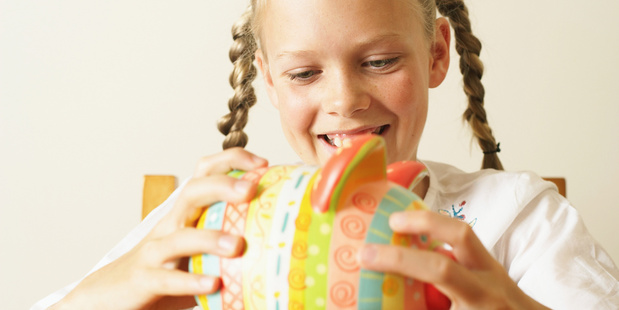 Westpac has been asking interesting questions about children and money. The bank's Money and Kids Report provides insight to the link between pocket money and financial awareness. We think it's important that kids (and once-were kids) make the connection between work, income, saving, and investment early in their lives - and the sooner the better.
For children "work" comes in the form of "chores". Westpac found those chores took on average 2.4 hours a week, typically on things like: looking after family members (babysitting), cleaning their bedroom (isn't it amazing how quickly it becomes messy again?), washing the car, mowing lawns, feeding pets, doing laundry, dishes and taking out the rubbish (it was pleasing to see that chimney sweeping was no longer a common chore). Most started doing chores at 6 years old.
The report says, "Pocket money for most families starts when a child is 6 years old and is usually up to $10 until 12 years old; 13-15-year-olds, on average, get $11 to $20". We can just see it now - protest marches through the house with placards demanding a minimum living wage.
There is no doubt that people who save in childhood are much more likely to save as adults and become mortgage-free.
We think there is more to teaching good money skills than just focusing on child chores, and that was one of the report's key messages: if parents want to teach their kids good money habits, they need to give them pocket money, and need to teach them how to save it. Here are some oily rag suggestions:
Let kids "bank" their savings. In other words, if they can think of ways to save money around the home, let them keep half or a quarter of those savings.
Don't call their allowance "pocket money", call it a "wage" for the good deeds they do to help around the house and their contribution to a happy oily-rag home life; jobs like washing dishes, vacuum cleaning, dusting, watering the plants, washing the car, mowing lawns, setting the table, cooking a favourite dish, and so on.
Encourage kids to save towards a specific goal. Write the goal and the amount on a label and stick it on a jar, then see how fast they can fill the jar.
Play money games at home. The Monopoly board game has often been credited with inspiring property tycoons.
Start a KiwiSaver account for youngsters and let them see for themselves the "miracle" of compound interest - and take advantage of the Government's $1000 kickstart!
When giving gifts, think about giving an investment - a term bank deposit, a KiwiSaver account, shares in one of the big name companies, or, if you have spare land, some livestock to raise.
When shopping, give them the responsibility of checking prices and making sure you buy the best value.
A calculator will be essential so they can compare different packet sizes. Not only will it be a valuable shopping lesson, but their maths will improve. .
Involve the young ones in power savings. Check your average power bill for each month, and share the savings around those in the household. The lesson may be as simple as turning off the lights when leaving a room. Get the kids involved in the rewards of saving electricity and they will act like highly motivated power savings devices.
Learning the savings habit early will bring a lifetime of rewards.
Besides thrift, pocket money can teach kids other important virtues such as the value of hard work and personal responsibility - lessons that will help them throughout their lives!
Do you have a favourite tip to share? Send it to us at www.oilyrag.co.nz or write to Living Off the Smell of an Oily Rag, PO Box 984, Whangarei.