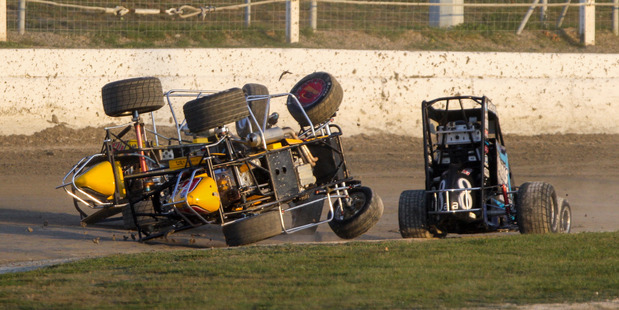 Aucklander Ryan Baker benefited from some of his father's misfortune as he retained his North Island TQ title at Meeanee on Saturday night.
"Dad should be retiring but he takes out a few cars so we can win," Baker, 25, quipped before the prizegiving for the 20-car Efficient Moving & Storage Championship.
While Baker and his brother Scott finished first and second respectively their father Lawrence was involved in several tangles - including a couple with Hawke's Bay's best hope for the title in the non-contact class, two-time national champion Duane Todd, who has never won the title.
These incidents added to Todd's misery on the night as a mechanical issue forced him to retire after the first lap in heat two and this was the end of his title hopes.
"We came here with the aim of going one and two and to go back-to-back - I'm stoked," Baker said.
A veteran of six years in the class, Baker said he enjoys racing at Meeanee.
"It's different to Western Springs which is wide open. Here it is a bit more technical. At the Springs you can drive the top of the track all race ... but it's nice to get away from the Springs."
With two seconds and a fourth placing Baker beat his brother by four points for the title.
Baker said he hopes Saturday night's success will prove to be a good omen for the Nelson-hosted nationals on February 9 and 10.
"I've got the Barry Butterworth feature at Western Springs next weekend. But because I won that last year I have to start off the back this time so it will be tough.
"I'm leading the Western Springs Series from Scott and I'm hoping to hang on to that lead in our final round on February 17. Because of that meeting I will miss the New Zealand Grand Prix meeting in Greymouth."
A bicycle salesman, Baker is hoping to move up to the midgets class when he leaves TQs.
Ryan Barry beat another Aucklander, Morgan McHugh, in a runoff for third.
Hawke's Bay TQ class rookie Tony Meechan, who celebrated his 37th birthday on Saturday night, was the only Bay driver to record a top-three heat finish in the championship, with his third in the third heat.
A week after rolling four times in a race at Meeanee, Whanganui driver Jason Pointon returned to win the 14-car Hawke's Bay production saloon championship.
With two wins and a fifth Pointon won the title by a point from defending champion Grant Loveridge of Whanganui. Gisborne's Anton McKay was third.
Hawke's Bay's Tom Stanaway, who is unavailable for the Hawke's Bay Hawkeyes attempt at a third consecutive ENZED Teams Champs title in Palmerston North this weekend, proved how big a loss he will be with three wins and a second in the four heats for the 15-strong stockcar class.
Rotorua veteran Pat Westbury won the other heat and impressed with two seconds.
Hawke's Bay's British-based professional and national solobike champion Bradley Wilson-Dean, who the previous week added the North Island title to his season haul, won all four heats for his three-strong class.
In-form Hawke's Bay sidecar crew Justin Lincoln and swinger Adrian Orchard won two of the heats for their five-crew class and finished second to the Bay's hubby and wife crew of Kim and Kerry Johnston in the feature.
Hawke's Bay drivers Ryan Dorward, Karlin Painter-Dudley and Jack Lawson and regular Gisborne visitor Angus Briant all had wins in the 29-strong ministock class.