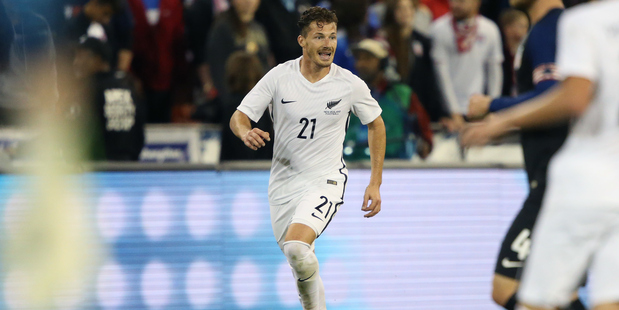 All Whites defender Liam Graham has returned home to link with Auckland City.
After almost five years in Europe - including a two season stint at Chesterfield and spells at various Italian teams - Graham has signed with the Kiwitea St outfit.
The Melbourne-born Kiwi international has won four caps and was most recently on loan with English National League South outfit Whitehawk FC based.
He won his first All Whites cap in a 2-1 defeat to Mexico on 9 October 2016 and featured in a 1-1 draw with the USA and two FIFA World Cup qualifiers with New Caledonia.
His signing is another impressive addition to City's squad, following the acquisition of former All White Kris Bright, which was announced earlier this week.
"Liam is very good defensively, he's aggressive and defends one on one situation exceptionally well and can be very good in the attacking side of things too," said Auckland City coach Ramon Tribulietx.
"Patience is the key as Liam's been away from football due to a long term injury and he's in the process of returning to a competitive status where we can optimize his tactical and technical abilities.
"Liam is very professional with the way he prepares and manages himself at training and that will definitely help him fit in quickly."
For his part Graham, who began training with Auckland City FC two weeks ago, is eager to kick start his career following injury setbacks.
"I wanted to reset my career after a second knee injury in as many years so coming home to New Zealand to do that both mentally and physically was the right choice for me to make," said Graham.
"Auckland City has been sensational so far because it was hard to know what to expect after being a professional for so long but the quality of trainings and the team spirit among the squad is great - I already feel at home.
"When I arrived at the club Ramon said to me 'you've been playing in the UK but here we have an emphasis to keep the ball, its precious', and I said it was nice to hear a coach say that,"
Apart from the ISPS Handa Premiership, Graham also has the Nike Lunar Cup and the Fifa Club World Cup to look forward to.
"I'm relishing the chance to play for Auckland City FC at the FIFA Club World Cup in a competition I've never played in before," said Graham.
Auckland City FC's next match is a pre-season friendly with Hamilton Wanderers on Saturday 23 September at Waiheke Island's Onetangi Domain.
The match kicks off at 2.45pm.