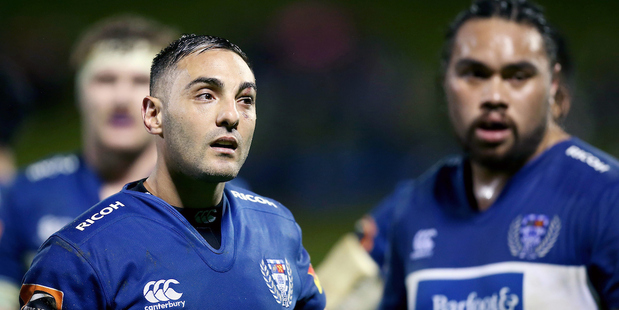 As you expect from New Zealand's largest city, Auckland always boasts a provincial rugby team stacked with talent. This year is no different, and yet it has been a long time since that translated into trophies.
Auckland last won the provincial crown back in 2007. They lost the 2015 and 2012 finals to Canterbury but finished fifth in the Premiership last year, despite Rieko Ioane's competition-leading 10 tries. It was a poor result for a powerhouse province.
Early days sure, but Auckland's opening 16-14 loss to Counties Manukau did nothing to suggest they will break their duck this season. Coach Nick White has resisted the urge to make changes after a performance which featured problems with the scrum, discipline and handling.
Akira Ioane's call-up to the All Blacks to replace Jerome Kaino sees Blake Gibson switch to No 8 and Sinclair Dominikovich-Murray come in at openside for his first provincial match in two years.
It wasn't all bad in Pukekhoe, and Auckland could easily have snatched the match late. But they didn't, and their campaign could do with a boost against Northland, who come off a 28-23 win over Bay of Plenty, at Eden Park on Saturday afternoon.
White remains confident this year's squad is capable of challenging for the title.
"All the Super boys that have come back have been really interactive and wanting to be here and especially last year was a tough season for a lot of them," White said. "Even though we lost last week a lot of them have comeback and made an impact within the team.
"The realisation of not performing last year has sunk in and we know what we need to do. It's not going to be easy because there's some damn good sides in both divisions so we're going to have to work hard to get anywhere."
Midfield, with George Moala and Malakai Fekitoa rekindling their 2013 combination and TJ Faiane on the bench, is but one area Auckland should be strong.
While Fekitoa enters his last season before moving to France, Moala is giving himself until the end of next year to add to his four tests.
"The goal is always to get back. I have to train hard and work on things to get better. I spoke to Fozzy [All Blacks assistant coach Ian Foster] a couple of weeks ago and he said I need to improve my skill set.
"I think I'm past that stage when I'm on the wing... I'm too slow now. I've got one more year with the Blues next year. I'll try have a big season and then assess where I'm at after that.
"We haven't won for a while now so coming in here with Auckland we are hungry to get the championship.
"It showed last week when we played Counties our discipline let us down and pushing the passes and trying to do too much. If we can be patient and get the detail right we'll go well."
With Crusaders centre Jack Goodhue making his return for Northland, Moala won't have it all his own way from second five-eighth. He also fully expects Blues team-mate Rene Ranger to come off his wing and attempt to knock him over.
"He'll always fly up - he showed that last week. He flew up even when it wasn't on. I'll definitely be watching to see when he is going to go for the spot hit."
Auckland: Jordan Trainor, Vince Aso, Malakai Fekitoa, George Moala, Caleb Clarke, Daniel Bowden, Jono Hickey, Blake Gibson, Sinclair Dominikovich-Murray, Samuel Slade, Scott Scrafton, Patrick Tuipulotu, Marcel Renata, Greg Pleasants-Tate, Sam Prattley
Reserves: Kurt Eklund, Isi Tu'ungafasi, Dexter Fa'amoana, Ben Nee-Nee, Josh Kaifa, Leon Fukofuka, TJ Faiane, Otumaka Mausia
Northland: Matt Wright, Rene Ranger, Jack Goodhue, Tamati Tua, Solomon Alaimalo, Peter Breen, Sam Nock, Dan Pryor, Kara Pryor, Jack Ram, Murray Douglas, Tim Bond, Namatahi Waa, Matt Moulds, Howard Sililoto
Reserves: Jordan Olsen, Ross Wright, Ropate Rinakama, Joshua Goodhue, Matt Matich, Malcolm MacLeod, Dan Hawkins, Jone Macilai