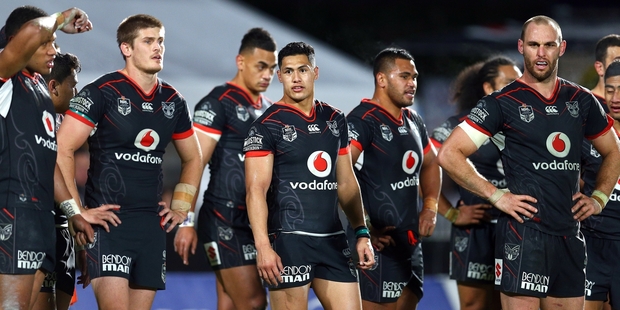 Anxiety grips the Warriors like a dental patient in the chair, or a frantic passenger dashing to make a flight.
Even though the Auckland side had nothing to lose on Friday night - as their finals hopes had essentially been written off before the match - they looked like condemned men in the 26-12 loss to the Sharks.
It was a mistake-riddled display, and while players and coach unanimously put it down to "execution", that might mask the real problem.
Errors are always symptomatic of something deeper, something not quite right. Although the talk is positive, it's the inner voice that can't be fooled. Thoughts are jumbled, minds aren't clear and output is mixed. Instead of flow, there's fear.
"There's no doubt there is a bit of a lack of confidence at the moment," admitted coach Stephen Kearney. "That plays a part, a bit of anxiety. There were times there where we just let ourselves down."
The Warriors struggled to get out of first gear on Friday. Rookie halfback Mason Lino had an uncomfortable first half - as he was pressured by the Sharks defenders - although to his credit he bounced back in the second stanza, in only his fifth NRL game.
There were also a series of bizarre errors, something unfortunately associated with the Mt Smart team.
Whether it was David Fusitu'a catching the ball then placing his foot over the sideline, Ata Hingano's kicking out on the full, Ken Maumalo watching as a Sharks attacker pounced on an early grubber or Issac Luke knocking on as he passed a ball into his own knee.
Centre Solomone Kata admitted the team were struggling for belief, after four straight losses, including three below-par performances.
"It's pretty hard for the whole team," said Kata. "All of the boys have their heads down but all we have to do is move on and look forward."
Bodene Thompson (suspected pectoral tear) is likely to be out of action for at least three months, while Sam Lisone faces a nervous wait before his judiciary appearance after being charged with lifting a knee into a tackle.
It was a nasty incident, as Sharks five-eighth Fa'amanu Brown was heavily concussed, but Brown got his body position horribly wrong and head in the wrong place. Lisone didn't look to be at fault, but there are uncomfortable memories of Konrad Hurrell's treatment at the hands of the judiciary after a similar kind of collision with Anthony Tupou in 2015.
Nonetheless, the Warriors's sole focus now needs to be on winning another game this season. They should be favoured to beat the last placed Knights in Newcastle on Sunday, but it won't be a stroll.
"We need to try to get our minds off this game, and come back into training focused on the next game," said Kata, who admitted that playoffs were out of mind. "We need to take it step by step. Don't need to focus on the whole season."
Maumalo, who was caught out badly for Kurt Capewell's try, believed the issues are fixable.
"They are not major problems, just fundamentals, catch and pass, catching. It is frustrating but that's the job. That's what we signed up for, to perform under this type of pressure."