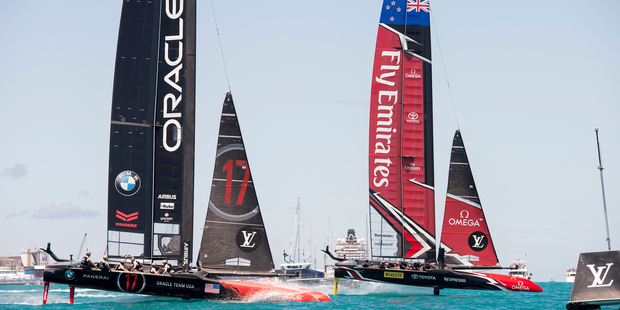 The America's Cup welcome home parade is confirmed to take place in central Auckland next Thursday.
Peter Burling's Emirates Team New Zealand won the hearts of 4 million when they sealed victory over Team USA on Tuesday winning the series 7-1 in Bermuda.
The parade, which will feature the cup and members of the triumphant Team New Zealand, will make its way along a road route in the central city from 1pm.
Team New Zealand will then take to the water for a sail past, giving fans and spectators a unique vantage point from which to welcome the team home.
Mayor Phil Goff says: "Aucklanders are very proud of what Emirates Team New Zealand have achieved in making the America's Cup New Zealand's cup once again.
"We are looking forward to welcoming them and the America's Cup back to Auckland."
It has been 14 years since the America's Cup left New Zealand.
Details of the final parade route, start time and viewing points will be confirmed later this week.
It is estimated that Auckland and New Zealand could get a boost upwards of $500m from hosting the next America's Cup event.
Emirates Team New Zealand benefactor Stephen Tindall told Newstalk ZB this week he was looking forward to racing in Auckland in four years' time.
Auckland hosted America's Cup regattas in 2000 and 2003 after New Zealand won the cup in 1995.