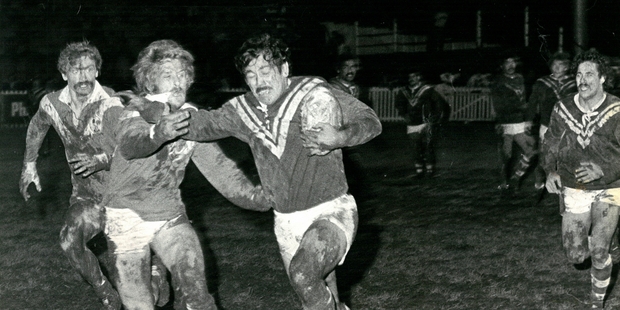 One of the most remarkable feats in New Zealand league history will be celebrated this week.
It's 40 years since a series of improbable results that now almost read like fiction.
In the space of three weeks, Auckland toppled Australia, Great Britain and France during an era when the Gallic side were incredibly strong.
"It was an amazing time," recalled former Kiwis and Auckland utility back Fred Ah Kuoi. "It was a special generation with players just starting to hit their straps and we bonded together as a team."
It was a young team. Prop Lyndsay Proctor points out he was the third oldest in the side, having just turned 25, while young guns such as Mark Graham, Olsen Filipaina, Gary Kemble and Ah Kuoi were coming on to the scene.
It started on Tuesday, June 1, 1977. Ah Kuoi and his teammates took a half day off work to meet at Carlaw Park late in the afternoon.
They had trained well during evening sessions at Cornwall Park and Mt Wellington, but were underdogs against the Kangaroos, who had convincingly beaten the Kiwis 27-12 a few days earlier.
"We'd had plenty of time together and [coach] Bill Sorensen knew how to give everyone confidence," said Ah Kuoi. "He had a simple game plan to get across to the team, then motivated players individually."
The Auckland side - which included future Kiwis such as Graham, Filipaina and Kemble - led 14-7 at halftime, with tries to Filipaina and hooker Glenn Taylor.
As they went out for the second half, news filtered through of an extra incentive.
"Word spread around the team that one of the sponsors had put up $500 for the team if we won," said Ah Kuoi. "We were like 'wow' - that's big money."
The team was on a $20 win bonus from the Auckland Rugby League, which was now almost tripled. The Kangaroos fought back in the second half but were repelled by an Auckland wall.
"What stands out is the amazing defence," said Ah Kuoi. "There wasn't any give. It was a massive effort in tough conditions."
A fortnight later, Great Britain came to the Queen City, fresh off a 30-12 win over the Kiwis in Christchurch.
But the Lions fell at Carlaw Park, with Chris Jordan and Dane O'Hara crossing for tries, while Kemble and Jordan kicked three penalties in the 14-10 win.
The victorious team convened at the Auckland Leagues Club on Stanley Street for the after-match function, celebrating their second significant win in a fortnight.
"It was fairly low key," said Ah Kuoi. "We had a few beers but nothing over the top; everyone had to go to work the next day."
The team - which included plumbers, drainlayers, mechanics, a policeman and freezing workers - thrived on the atmosphere at Carlaw Park.
"The lights weren't that great - it could be pretty dark - and it was almost always muddy," said Ah Kuoi. "But we were used to it, while a lot of the opposition weren't and it was amazing with the crowd right on top of you."
The fans made a difference in the match against the Tricolours, with the Auckland side pulling away in the second half with tries to O'Hara and captain Dennis Williams to win 17-0.
"It had been a dry period for New Zealand league - there hadn't been much success in the 1970s and this was a bit of a revival.
"It was a breath of fresh air for the game and showed there was light at the end of the tunnel."
"It is great looking back at what this team achieved and knowing it will never be repeated," said Proctor. "Carlaw Park night games under lights, Auckland playing the Aussies, Poms and Frogs, and giving it to them in each game. The spectators would have been in league heaven."
The entire 1977 squad will be guests of honour at Friday's Warriors versus Bulldogs clash before an Auckland Rugby League tribute at Grey Lynn Park ahead of the Fox Memorial clash between the Richmond Bulldogs and Northcote Tigers.
"It could be the last one, with all of us still here," said Ah Kuoi. "They'll be a lot of laughter, a lot to catch up on. I haven't seen some of them since we finished back then. It's a long time between beers."
Auckland's 1977 slam
• The results
June 1 Auckland 19 Australia 15
June 14 Auckland 14 Great Britain 10
June 21 Auckland 17 France 0
• The squad
Gary Kemble, Warren Winter, Dane O'Hara, Fred Ah Kuoi, Olsen Filipaina, Dennis Williams, Chris Jordan, Dane Sorensen, John Smith, John Wilson, Glen Taylor, Lyndsay Proctor, Dave Sorensen, Kurt Sorensen, Alan McCarthy, Mark Graham, Dave Lepper, Mark Lowe, Stan Napa, Luther Toloa.