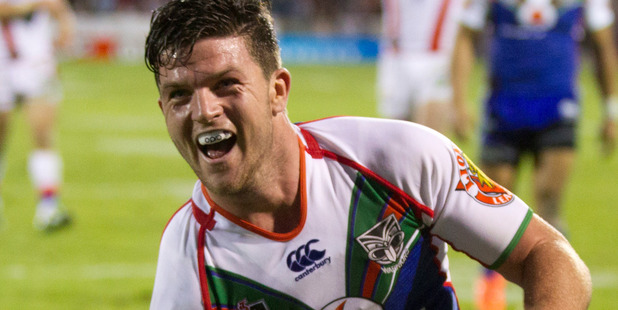 One of my best mates is a Warriors fan, has been for the best (and worst) part of their 19 seasons, which has not been so much an exercise in pleasure as a longtime fling with sado-masochism.
Most of us have chuckled or cheered at the club's rollercoaster ride in the NRL and some of their more whimsical on- and off-field decisons.
This week, however, the club has made absolutely the right call.
The Warriors decided they will return to their "spiritual home" of Mt Smart Stadium next season and defy the flailing, desperate embrace of Regional Facilities Auckland, possibly the most inept of the Auckland Council's umbrella groups.
The NRL club obligingly played three "home" games at Eden Park this season under a deal structured by RFA.
Obliging as in, helping to bring in some cash for the debt-ridden white elephant while donating four of a possible six points - the likely difference between the playoffs and a season's oblivion - to its opponents.*
Warriors owner Eric Watson was smack on the money when he said: "Until there are compelling reasons for the club, our partners and supporters to support us moving elsewhere it would be totally irresponsible of us to make a move away from Mt Smart Stadium.
The smart move for us right now is to stay at our home."
This saga goes back to the heady days of Rugby World Cup preparations.
You may recall the International Rugby Board required the host nation to provide a flash 60,000-seat stadium. We didn't have one.
It would have been a good time to have a debate on (a) the future of dilapidated Eden Park, in the middle of Auckland; (b) how many stadiums Auckland had v. how many it needed - think Mt Smart, North Harbour, Western Springs, what remained of Carlaw Park, among others; (c) ... oh yes, Option C.
Then-Sports Minister Trevor Mallard hijacked rational debate with a left-field bribe: the Government would toss millions into a spanking new stadium on the Auckland waterfront.
That wishful thinking was rightly seen off under pressure of deadlines and costs. Eden Park became the short-term - and short-sighted - option.
For $250 million of which Auckland ratepayers dobbed in $50 million. We'll be paying that off, along with our mortgages, from now until the third and final test in the Doomsday season.
Following the Rugby World Cup and the merger of Auckland's local bodies, RFA was set up to manage and co-ordinate sports, concert and event facilities from Warkworth to Counties-Manukau, which brings even more empty grandstands into the frame.
Its strategy was: the Warriors move all Auckland matches to Eden Park; speedway moves from Western Springs to Mt Smart; Auckland Cricket moves to a new test-standard ground at Western Springs for about 20,000 spectators ($20-40 million for three men, a dog and a scorer at most of its provincial matches). Eden Park's trustees could develop commercial and residential buildings on the No 2 ground to pay off our debt.
In a single PowerPoint presentation they managed to upset most of the region's notoriously inward-looking sporting bodies.
Some might see the Warriors decision in that light, but it is completely correct for its business, for its supporters - and to this observer - for our regional facilities.
Over the past decade, and now, a more rational debate about Auckland's need for stadiums might have seen Eden Park's old grandstands razed and the real estate sold off for desirable inner-city housing and shopping.
Mt Smart, with its natural bowl, out-of-earshot site, rail link to Britomart and back, could have been developed as the regional stadium that it was always intended to be.
Auckland residents would be paying for one less never-full, cash-draining, resident-irritating, resource management-restricted venue.
And I haven't even mentioned North Harbour (ask any ratepayer from the former North Shore City) or Western Springs (ask any nearby resident) yet ...
Please don't bring Mallard's Folly back into the discussion.
It's funny how we still can't get the cars and the containers off our front doorstep and enjoy the harbour, as they can in Wellington, but so many Aucklanders were keen to block the view of and access to the water, create downtown traffic chaos every Friday or Saturday night for months of each year, and move the port - to meet the demands of an international sporting body that's a running joke every footie season.
* The win came against the Raiders, 54-12, but my mate tells me the Canberra side haven't won an away game for about two years, so it doesn't really count.
- Ewan McDonald is the former editor-in-chief of The Aucklander