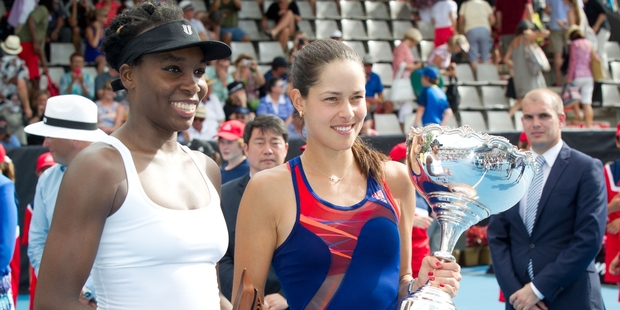 Forget yachting stopovers and short form netball - it's time for local government to get serious about supporting our two annual professional tennis tournaments.
The ASB Classic and Heineken Open are two of the highlights of summer. They are successful on any measure - especially when it comes to attracting world class players.
In the past few years, the women's event has attracted stars such as Lindsay Davenport and Maria Sharapova, while the presence of Ana Ivanovic and Venus Williams (who has over a million Twitter followers alone) last week took interest to a new level.
World No 3 David Ferrer has been a consistent attraction on the men's side, while Juan Martin del Potro and Gael Monfils are other top 10 players who have graced the tournament in recent years.
In comparison, it is rare for any professional golf event in this country to attract a single player ranked in the top 100, let alone anyone who might turn heads walking down the street.
The tennis tournaments tick every box - whether it is global television interest, crowd numbers, leveraging opportunities, visitor nights, quality of players - as well as creating a buzz around the city. They also deliver epic, inspirational sport. The Williams vs Ivanovic final was great theatre, while Ferrer's quarter-final battle with compatriot Guillermo Garcia-Lopez was a sporting contest for the ages.
Yet the events have almost been taken for granted. Until recently, Auckland's Grey Lynn festival received more local body funding and support than the ASB Classic or the Heineken Open, while Fashion Week garnered more financial support than both tennis tournaments combined.
Auckland City, via funding agency ATEED, have invested hundreds of thousands in Fast 5 netball tournaments. Despite heavy marketing, they have barely registered in terms of media and public interest, while visitor numbers are negligible.
ATEED have also invested a huge amount of money into another Volvo Ocean Race stopover, which may feature only five or six yachts. While that event creates some activity on the Auckland waterfront, it is a long way from the days of Steinlager2 and Fisher & Paykel racing down the coast in the 1990s.
With extra financial support, the ASB Classic could be in the market to attract Serena Williams for the 2015 event. She is the biggest female sports star on the planet and would ensure big exposure for Auckland and New Zealand, especially in the important North American market.
Or what about Li Na? The Chinese No 1 and two-time Grand Slam winner has more than 20 million Weibo followers (the Chinese equivalent of Twitter) who track her every move; since the retirement of Yao Ming, she is arguably the most popular sportsperson in the Middle Kingdom.
There is also a push to bring Roger Federer to these shores, with Heineken Open tournament director Karl Budge confident the Swiss icon will "definitely" play here before the end of his career. But Federer is in high demand, from Beijing to Budapest, and doesn't come cheap.